These Thoughtful Housewarming Gifts Will Help Loved Ones Feel At Home In Their New Digs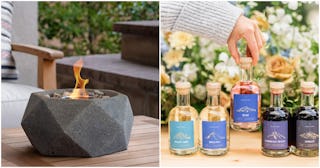 Amazon/In Good Taste
Housewarming gifts are in order when someone changes dwellings, because, well — moving is no joke. There's all the time spent packing, the actual moving part, and then what seems like the even longer unpacking period once you're in the new home. And inevitably, something goes missing (sometimes that's your sanity, especially if kids are involved) or gets broken along the way. Needless to say, a thoughtful gift is always appreciated by the mover-in-question; after all, it's a momentous milestone, whether they've already had several abodes or this is their very first home.
If you have friends or family that are moving to a new house or apartment, the least you can do (other than carrying a box or two), is to help celebrate their new digs with a thoughtful housewarming gift. Better yet, give them something you can enjoy together once they're settled in and invite you over for a visit. From a new plant, to a set of colorful glasses, to some upgraded kitchen essentials, there is no shortage of gifts to choose from. Here are the best housewarming gifts to help make their house feel more like a home.
Good Housewarming Gifts For Friends & Family
Best Housewarming Gifts For Couples
Most Useful Housewarming Gifts
Best Housewarming Gifts On Amazon
For more ideas on how to make your home more stylish, cozy, or functional, check out our other Home & Kitchen picks.