I Found A Bra From Harper Wilde That's Actually Comfortable Enough To Sleep In, And Thank You Lord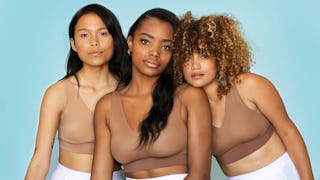 As soon as I get home, my bra comes off before the door even closes behind me. Sure, if we don't want to wear one, we shouldn't have to — I'm all for empowerment. But personally, I feel like I can't really go to work, or my kids' school, or out to dinner with my boobs bouncing around. That's just me. If you can pull it off (literally), more power to ya.
So, I conform to confinement, and strap 'em up. The wires poke me, the material scratches the hell out of me, and the straps either fall off my shoulder or dig into my skin. Thanks, patriarchy.
But, after lots of swings and misses, I decided to give Harper Wilde's bralette a shot, and my boobs and I are now in heaven. It's completely wireless, insanely soft, and has a one-of-a-kind band that actually gives the girls a lift, instead of smushing them down like other bralettes I've tried. It's called The Bliss, and I can see why. The other day I was making dinner when I realized I hadn't taken it off yet! Of course, I immediately did, because that's just what I do, but the point is that I didn't feel my usual need to escape from a torture device.
Harper Wilde was founded by two women who couldn't understand why bra shopping, like the bras themselves, was such a pain. Or why the industry was run by, and seemed to market to, men. Instead, they talked to hundreds of women, figured out exactly what we want (and more importantly, and what we don't) and then made it a reality. Bad. Ass.
It's super easy to find the right size, too, with a chart that translates your bra size to bralette size, and a quick and easy shopping experience that doesn't involve standing next to a picture of a supermodel and having your cup size measured in the mall.
They also #LiftUpTheLadies (lol, great hashtag) in other ways, empowering women throughout their company, and donating to girls' education across the country.
It's been a few weeks and I'm pretty much in love with The Bliss. The band has held its elasticity, (wish I could say the same), it still looks like it did the day I got it, and being able to actually throw it in the washing machine is a huge plus, compared to my regular bras. It's also great if you're pregnant or postpartum, since it stretches and grows with your boobs and they don't spill out the top or push out the bottom. Plus, it's easier to breastfeed, if that's your thing, with a simple pull-down. (No more kids for me, but I wish I had this about 2 years ago.)
I'm sold. I'm not ready to go completely braless yet, but this feels about as close as I'm gonna get!
Our mom experts only recommend picks they really love. We may earn a commission on purchases made through links from our site, but if we love it, we know you'll love it.
This article was originally published on