8 *Nearly* Indestructible Dog Toys That Will Stand Up To Even The Toughest Teefs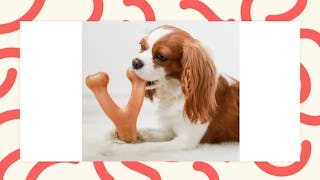 Not every chew toy for dogs is created equal–but, of course, you knew that already. If you're the parent of a pup who demolishes even the most seemingly-indestructible dog chew toys, the struggle is real–especially now, when you've got human kids to keep busy at home. If you've been through an array of what you thought were tough dog toys, only to find yourself on to the next one a day later, you need stronger-than-average options. That's where we come in.
Whether you've got a big dog or a smaller pup, aggressive chewers can end up costing you a fortune in replacement toys and, more seriously, vet bills. There's also the extra time you spend cleaning up after eviscerated plush stuffies, rubber balls, bones, and even dog beds–or, God forbid, your own furniture. More stress? Right now? Hard pass. Finding indestructible, or nearly-indestructible dog chew toys is a pet necessity for saving money, time, and general sanity.
So what exactly are the best dog toys for aggressive chewers? That depends on the size of your pupper, as well as your dog's needs/favorite way to play. Is he a fetch ball fanatic? A chew stick connoisseur? An energetic pup who needs a problem-solving puzzle-style toy? Ahead you'll find options for every power chewer, big or small.
Best Stick Chew Toys for Dogs
Best 'Indestructible' Dog Chew Toys for Hiding Treats
Best Dog Toys for Aggressive Chewers Who Like to Play Fetch
Best Tough Dog Toy for Playing Tug
Found the best toy for your power chewer? Great! Now on to shopping more home and kitchen essentials!