11 Best Balance Bikes for Toddlers & Expert Tips On Buying The Right Size
by Anna Baboval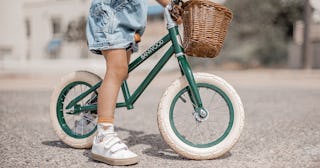 Maisonette
Toddler balance bikes have become an increasingly popular trend for teaching our youngest kiddos how to ride — they're like the bridge between stumbling on two feet and zooming on two wheels. Aside from learning to drive, there is no bigger right of passage for a kid than learning to ride a bike.
This year, we're all focused more than ever on getting out of the house for some fresh air and fun. We've already stocked up on pool floats, kiddie pools, and water tables, so it's no wonder bike sales are spiking up too! Now, as the mamas, we have to figure out how the hell to teach a toddler how to ride a bike?! That's where the amazing balance bike comes in.
RELATED: A Stress-Free (OK, Maybe Some Stress) Guide To Teach Kids How To Ride A Bike
What age is best for balance bikes?
Many parents wonder when should kids learn to ride bikes. Would you believe us if we said as early as 18 months? It's true! (We know it's mind-blowing!)
Balance Bikes vs. Training Wheels: Are balance bikes a waste of money?
Balance bikes are totally worth buying, Mama. While training wheels keep your little ones upright when riding, they aren't actually teaching them to stay balanced on their own. Balance bikes focus on teaching the idea of balance before peddling, and most kids can transition to a regular bike much earlier than with traditional training wheel bikes. Many balance bike riders are all set for the real deal by age 3 while training wheel riders may have a couple more years to go.
Balance bikes will also teach your toddler independence and confidence. Even when starting with balance bikes when they're a little over a year old, they'll be able to walk with their balance bikes, move their balance bikes without help (they're super lightweight!), and eventually ride them solo. We know you may be on the fence because of their short life span in your kiddo's bike-riding training, but that just means the balance bike has done its job!
Trust us — balance bikes are in and training wheels are out!
Finding the right balance bike sizes
One of the most important things to consider when looking for a balance bike is the bike fit. Balance bike sizes range from 12" to 20" tires and are generally geared towards kids ages 2-6. However, if your child is older than 3, we highly recommend getting a balance bike with handbrakes. (We don't want to ruin those new shoes, Mama!)
Ryan Birkicht, a two-time dad (aka he knows a thing or two), and spokesperson for Schwinn Bikes, explains what to look for when measuring for a kid's bike. "The number one thing you want to make sure when getting a new bike for your little is that they are comfortable which translates to confidence while riding. To ensure the child is comfortable, they should be able to put a foot down to balance when sitting in the bike seat. He shared a simple, 3-step process to ensure you've got the right size:
1-Measure the child's inseam with shoes on. This measurement is from the floor to the top of the inner thigh.
2-Check the measurement from the ground to the top of the bike seat (with the seat in its lowest position).
3-If the inseam is larger than the lowest seat height measurement, then the bike is a fit! This is more important when the rider is still a beginner because it allows them to put a foot down if they're losing their balance or having trouble cornering.
We've scoured the internet and found the best toddler balance bikes that come in a range of sizes to fit every kid. And keep in mind, while we feature boy bikes vs girl bikes, it doesn't mean we feel anyone has to pick a side. Bike brands, however, do market them this way not just for color choices, but for the genuine difference in build between traditional boy vs girls bikes (think center bar height).
Here's a kids bike size chart if you need help determining the right size to buy (by age and height). Family bike rides will be a weekend ritual in no time!
Best Balance Bikes For Toddlers
Generally recommended for kids 2yrs+
Best Balance Bikes For 3-Year-Olds
Best Balance Bikes With Brakes
For kids 4 and up, we recommend balance bikes with handbrakes.
More Toddler Balance Bikes Options
Now that the LOs have mastered bike riding, look for other ways to entertain them this summer. Check out all of our mom-approved kid toys for even more fun!
This article was originally published on