The Best Go Karts For Kids To Put The Pedal To The Metal
by Bailey Cox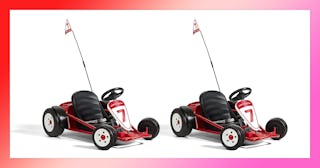 Amazon
Go carting (aka, "go-karting") can inspire exciting family outings, and a kids go cart (kart?) can be considered essential gear for youngsters who love going a mile a minute. Kiddos love the thrill of speeding around tight corners, the wind whizzing past their faces, and adrenaline pumping through their little bodies. But you don't always have to travel to drive a go kart, especially when quarantine has closed down a lot of businesses. So how do you keep kids who are full of energy entertained while being safe at home? Well, obviously you get them their own go-kart! For those who are looking for the next step following toddler tricycles, tot scooters, then big-kid bikes, a kids go kart is an excellent next step.
RELATED: The Best Electric Riding Scooters For Everyone (Yes, Even You)
If you're worried about accidents, not all kids' go karts are motorized, so you don't have to worry about your kiddo careening down the neighborhood street at full speed. There are slower options for the younger kiddos such as pedal go karts that make a great intro to bicycling. And for the older kids who have the need for speed, there are motorized versions that can reach max speeds of 12-15 mph (and they have rechargeable batteries so you won't have to deal with messy fuel). Still, these models let parents control how fast your young speed demon can travel by offering either beginner or expert speed levels.
Not sure which go-kart is best for your family? We did the research for you by rounding up the 8 best go karts for kids of all ages, both battery-powered or pedal-powered. Just remember to always practice safety when riding a go kart with the appropriate helmet and protective gear!
Best Electric Go Karts For Kids
Best Kids Pedal Go Karts
Most Affordable Kids Go Kart
This article was originally published on