The Best High-Performance Golf Clubs For Toddlers, Kids, And Teens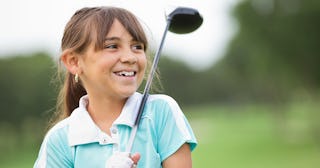 Getty Images
So, your child's going to play golf, and you gotta buy some kids' golf clubs, STAT. Whether they've set the PGA Tour in their sights or you simply want to get them away from their Chromebooks, golf is a great sport for kids whether they're a toddler, teen, or somewhere in between.
RELATED: 17 Best Basketballs For Kids — Just Don't Let Me Catch You Playing Ball In The Damn House
Every sport has its culture, and golf is no different. Picking up golf is kind of like traveling to another country. First, you've got to learn the language, and golf has all sorts of interesting lingo, some of which sounds oddly like pet names (birdie and bogey, say what?). There are also all the rules, customs, and etiquette that officially and unofficially govern play. All this is to say that, even in spite of the learning curve, golf is totally worth it and a fantastic sport for kids. It teaches valuable life lessons they can benefit from on the course and in life, like adaptability, focus, and problem solving.
"A round of golf is a 'lesson in life,' meaning that just like in life where we set out to follow a plan, throughout the day but we end up improvising, overcoming obstacles and changing goals," said Jim Hardy, Senior Director at U.S. Kids Golf Academy at Longleaf Golf & Family Club in Southern Pines, North Carolina. "Golf does the same thing as it strengthens our ability to adapt to changing circumstances. Words like resilience, persistence, focus, and patience are part of the game of golf and life."
Before their first lesson or play time, help set them up for a good session. When it comes to attire, collared shirts are recommended for girls and boys as well as a good pair of shorts (no denim), and a pair of clean sneakers to start. Since they'll be outdoors, a water bottle and sunscreen are also a must. And, of course, the golf clubs. Rental fees can add up fast depending on the facility, so purchasing a set or individual clubs is the better long-term option. We're breaking down some favorite kids' golf clubs that they'll enjoy at least until their next growth spurt.
Best Kids' Golf Club Sets
Club sets offer the most swing for your buck and are the most cost-effective way to go, especially if your child loves golf, takes year-round lessons, and wants to level up their game.
Best Kids' Golf Clubs
If your child is trying out golf for the first time, purchasing single clubs may also be a good option. It's a low-cost way for them to test the waters before you commit a chunk of your paycheck to high-performance (read: pricey) clubs. You also have the freedom to mix and match clubs depending on their preferences and style of play, though it may be hard to figure out if your three to five-year-old is trying to chop wood or drive the ball!
Best Kids' Left Handed Golf Clubs
Best Kids' Plastic Golf Clubs
Best Toddler Golf Clubs
This article was originally published on