The Best Meal Delivery Kits For Even The Pickiest Eaters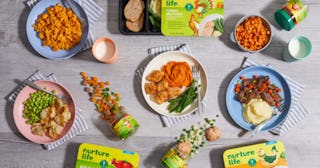 Nurture Life
Too busy/exhausted to cook for your kids? A few words: Kids' meal delivery. Because let's be real — cooking for your kids is a never-ending task. No matter how tired you are, those tiny people still need to eat. Subscribing to a meal delivery service can lighten your load and just make life easier, so instead of spending hours in the kitchen, you can spend more time with your kids, by yourself, or doing literally whatever the F you want, because SOMEONE ELSE IS DOING THE COOKING! Not to mention there's barely any cleanup.
RELATED: How To Teach Kids To Cook: Simple Suggestions To Create An A+ Home Chef
"While many parents strive to be the next Martha Stewart or Gordan Ramsey by cooking up a storm for their family every night, it may not always be feasible. So, having handy options like meal kits helps to take the guesswork out of mealtime," says Melissa Halas, a Registered Dietitian Nutritionist, founder of SuperKids Nutrition, and a fellow Mama. "Family meals and cooking together is the best way to expand kids' taste buds and spirit of adventure for new foods…[and] they are a great solution for those weeks when you just can't add one more thing to your to-do list. "
The benefits of using kids meal delivery services
For one, it can combat picky eating (and we know how insanely picky they can be). Halas suggests asking your little ones to help out when selecting weekly recipes. It'll allow them to feel involved in their meal process and get them a little more excited about healthier options.
"The kits are also a great way to inspire children to get in the kitchen and learn about different foods—often bringing out their inner adventurous eater," she adds.
Halas also mentions that meal kits can take the guesswork out of what your caregiver feeds your kids, or help parents who opt out of school lunches. "You feel good knowing a nutritious (if carefully chosen) yet ready-to-go options will be served. [And] for parents who have to opt-out of school lunches due to allergies or food preferences, meal kit deliveries can also be a huge time saver."
What is the best meal delivery service for families?
Kids have different dietary needs and preferences (a fact you probably know all too well), so we rounded up several different meal delivery kits that offer a variety of options — from organic baby food, to toddler-approved meals, to meals for big kids that they'll actually eat, to meals for the whole family. Plus, one option for dessert, because you gotta. Browse through the options below to find the meal delivery service that works best for your family. The prices listed are around what it costs per meal, depending on the plan you choose.
Best Meal Delivery Kits for Kids
Best Meal Delivery Kits for Toddlers
Best Meal Delivery Kits for Babies
This article was originally published on