Here Are Some Cute, Functional, And Comfortable Tank Tops For Kids
by Keri Pina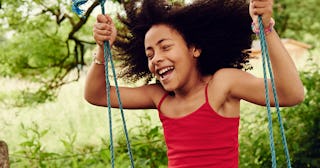 Getty Images/Flashpop
Kids tank tops are a wardrobe staple, and not just during the sticky, hot summer months. My daughter uses them as undershirts when she wears a frilly dress so she doesn't get too itchy, and they can also be used as a layering piece under a hoodie or cardigan during those transitional seasons (lookin' at you, spring). And while it's great to have some simple, versatile kids' tanks to wear with different outfits, when you're looking for tank tops for kids that can be worn alone (or at least with some sunscreen), you'll def want some graphic prints or loud pops of color to stand out. You know, something that lets all the kids at the park know your kid came to play AND slay.
What are the best tank tops for kids?
The best tank tops for kids are usually 100% cotton or some cotton blend for breathability and comfort. The neck and armholes have to be the right proportions, because what's more uncomfortable than a seam digging into your sweaty armpit on a 100-degree afternoon? If you're looking more for tanks to wear as undershirts, you'll still want something made of stretchy cotton, but thinner options in solid, neutral colors are best.
Once the summer kicks off, you'll probably have endless cookouts, water play dates, and camping trips to plan for, which means you'll need a bunch of tanks, bucket hats, and shorts to keep your kid cool. I know it sounds like a long shopping list, but chill out! We got you covered. Here are the ten best tank tops for girls and boys (and some super cozy undershirts) so you can just say no to pit stains.
Best Kids Tank Tops
Best Tank Tops for Girls
Best Boys' Tank Tops
Best Boys' Undershirts
Ok, so you got this tank top situation handled, but head this way if you still need more summer gear for the family.
This article was originally published on