Spring Is Coming — It's Time For Your Best Leather Blazer Or Moto Jacket
by Daisy Melamed Sanders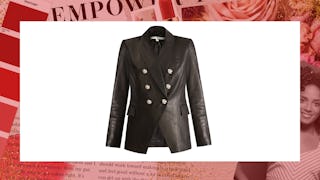 GREAT NEWS: As winter nears an end, you can finally begin to stop living in constant fear of the next disgusting disease that will inevitably take your whole family down (seriously, if cleaning your kids' vomit up at 3am wasn't enough, now you have to clean your own, too. Motherhood is totally chic, amiright?).
And guess what, there's another huge perk of warmer temps, too! Ladies, it's officially becoming leather jacket season. Perfect for those 40-degree mornings followed by 60-degree afternoons and 30-degree evenings, leather or suede outerwear (or faux versions thereof, of course) are eternally stylish, easy to wear, and epic in their versatility.
We've rounded up nine of the best leather jackets on Amazon and beyond at every price point, for every occasion — whether you spend your days running around the playground or running around town, we've got you covered. Consider this your "I survived cold and flu season" gift to yourself. You've most definitely paid for it in sweat — or, rather, snot — equity.
Best for Everyday Wear
Best Faux Suede
Best for Feeling Fancy
Best for Running Errands
Best for Feeling Badass
Best for Cold Weather
Best for Looking Classic
Best for Summer Sizzle
Best for Country Casual
Inspired to shop for more? Check out Scary Mommy's fashion section for more favorite picks of the season. Because, really, we all know you'll continue to pay for it in spades, all year 'round.