Stained Glass Lightbulbs Are Already The Biggest Interior Design Trend In 2021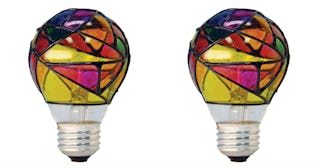 Amazon
If you're looking to make your space feel warmer and a little more magical, Amazon customers are on to a really gorgeous trend: stained glass light bulbs. After swapping your regular 'ole light bulb with one of these (a GE Incandescent Stained Glass Bulb), you can turn your room into a moody, rainbow nook that might remind you of fairy tale window pane.
Each bulb is hand-painted, so no one bulb is alike (and if you have several of these bulbs in your home, they'll each give off a unique ray of colors and shapes). These 25W bulbs have long shelf life (if you use a single bulb for 3 hours a day, it'll last you for three whole years), so you won't have to replace them all the time.
With over 1,200 5-star reviews, we've put our trust in Amazon reviewers, who swear by these pretty bulbs to give their homes a new feel in 2021. And for under $7, that's not too shabby. Some customers like to place these bulbs in cool light fixtures, which add another dimension to their aesthetic. "Love these bulbs! It's hard to capture just how beautiful they are when inserted into a light fixture (with crystals). The result is colorful light prisms splashing all around on the walls. This nice, soft and colorful array makes for a beautiful atmosphere," one person wrote.
Another customer shared, "I originally found these at Target for like 3 bucks each. I got one for my lamp at work and both of our living room lamps and we fell completely in LOVE!!!! (I get tons of comments on the one at work too) We felt devastated when the bulbs burned out and Target didn't have more. You pay a bit more for each bulb on Amazon but in our opinion it's more than worth it. The lighting it gives is so cozy and inviting, we could never go back to a regular bulb. I think I would DIE if they stopped making these! Lol."
This article was originally published on