Make Your Bathroom The Next Best Thing To A Spa With These Luxe Towels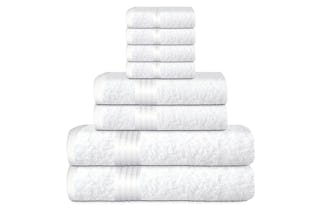 StackCommerce
Raise your hand if your only form of self-care these days is a luxurious bath or shower! As we continue to live through a global pandemic, those dreamy spa days are but a distant memory. And since we may not have a spa getaway with the girls on our itinerary quite yet, we might as well invest in some more accoutrements to turn our bathroom into the next best thing.
Grab your favorite bath bomb and maybe a candle or two and refill your own cup with some alone time, then keep the lavish vibes flowing with the Hurbane Home 8-Piece Bath Towel Set. This complete set of washcloths, hand towels and bath towels gives you that perfectly plush spa-like feeling that you deserve, all for 27% off the usual price at just $34.99.
The Hurbane Home 8-Piece Bath Towel Set is made of premium cotton that is delightful to the touch, giving you a serious upgrade from the dingy old towels in your cabinet. They're double-stitched and 2-play low twist so they actually have added softness and more durability to keep them cozy wash after wash. And, unlike other soft towels that aren't always super absorbent, these towels are high-absorbency so they dry you off in a flash. The bath towels are also generously sized, giving you extra comfort as you wrap yourself up post-shower or bath time.
Available in a variety of colors, you can own the Hurbane towels in a clean and crisp spa white, a rich burgundy, a cheery orange, or a chic black. This set gives you four washcloths, two hand towels, and two bath towels, so you'll be able to outfit your master bath, or if you're feeling generous, even provide these swanky towels for your visitors in your guest bathroom.
Give yourself the gift of luxurious spa-like towels with the Hurbane Home 8-Piece Bath Towel Set. It's available now for a limited time for just $34.99.
This article was originally published on