I've Finally Found The One Healthy Snack My Toddler Can't Get Enough Of — Blessed Be The Fruit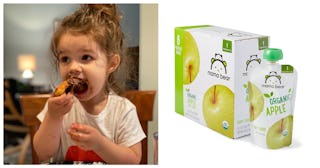 Karen Belz/Amazon
I'm going to be honest here — when it comes to food prep, I'm not the best. Sure, I'm a fine cook. My salad-assembly skills, as I've been told, are above average. And, I'm technically in charge of four meals a day — my own breakfast and lunch, and breakfast and lunch for my 3.5 year old daughter, Charlotte. So every day, I'm improving just a little bit. If you asked her directly, she'd probably rave most about my peanut butter and jelly sandwiches. Which I've made… often.
RELATED: Deciphering And Deciding On Baby's First Foods — A Guide For Moms From Moms
Charlotte is somewhat of a picky eater. Often times, it's a game. Despite watching the "Try A New Food, It Might Taste Good!" episode of Daniel Tiger's Neighborhood approximately 9 billion times, she still hasn't gotten the message. Anything she's never tried before is something she "doesn't like." Even chicken nuggets have become somewhat of a hassle. Whenever they're an option, I have to sit across from her and watch her treat them like pure poison. How dare I force my child to eat a nugget shaped like a dinosaur.
While dinnertime can be a major stress, I understand it's all a part of self-discovery. Also, control. When you're a few months shy of being four, you don't have a ton of say in how a household is run. So, I try not to be hard on her. And, I usually stick to foods I know she won't fight me too hard on. Lunches often come with sides of raisins and applesauce, since — while still sugary — I feel good about them, and know she'll devour them without delay.
Still, I'm always on the lookout for other options. And, I think I finally found one, especially since pouches work very well for her (and, her parents.) Amazon sells Mama Bear Organic Baby Food in really interesting flavors that'll help diversify her lunches a little bit (like Pumpkin + Apple + Peach, Pear + Apple + Broccoli, and always a solid standby, Apple + Banana — plus more). And even better, they're wonderful for babies who are just starting to eat solids. In general, if it comes in a pouch, I'm interested.
You can also feel really good about what's inside. Amazon uses organic ingredients, meaning that your kid is only getting the best. There's also no added salt, and no artificial flavoring. And, according to other moms, they're great for kids who have certain food sensitivities. (But of course, you'll want to run it by your doctor first, especially if your child is on a very strict plan.)
Just ask Amazon Reviewer Chelsea Auslander, who opened up about her own struggles with finding a great snack for her kids. "My son has a rare food allergy diagnosis called FPIES and so I have to be extremely careful to buy food with minimal and honest ingredients," she writes. "I used to make all of my son's purées, but now that he is older and I am working, I had to find food I could trust. Mama Bear Products are awesome, I cannot recommend them enough!"
If you're in a similar position, you'll want to definitely give these a try, and check out the rest of the products that Mama Bear offers on Amazon.
This article was originally published on