Mask Fogging Up Your Glasses? There's A Hack For That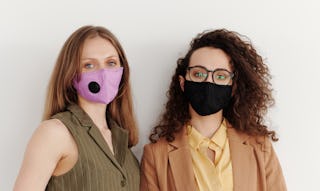 Pexels
You're already juggling car keys, hand sanitizer, and a kid when you head into the market—the last thing you need is obstructed vision from simply breathing under your face mask. But it's not like ditching the mask is a good idea. Kick that pesky problem to the curb with this lens anti-fog solution from FogBlock. It works on eyeglasses and face shields to prevent fogging all day, and it's 13% off for a limited time.
If you're out in a mask, you're probably doing something essential. Whether you're picking up groceries or treating patients, fogged-up glasses can interfere with your tasks. This spray from FogBlock is a streak-free and non-toxic formula that holds its anti-fog properties for up to 24 hours after applying.
One customer gave the product five stars and said, "This is good stuff. Keeps the fog away with a couple of sprays! Wearing the mask caused my glasses to fog terribly. This is the solution. So very glad I found it."
The FogBlock spray is super hands-off and easy enough to apply on your way out the door. All it takes is a quick spritz on your lenses. You won't need to wipe it, rub it, or even watch it. Just let it dry for five minutes, and you'll be set for the next 24 hours to breathe under your face mask without the drama. FogBlock comes in a small one-ounce container, which makes it easy to take along in your pocket, and is travel-friendly under TSA guidelines.
The anti-fog solution from FogBlock is on sale today with a 13% discount, for a final price of $12.99 while supplies last.
Prices subject to change.
This article was originally published on