The Best $30 You'll Ever Spend If You Suffer From Anxiety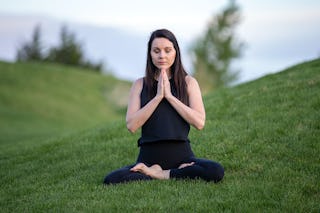 StackCommerce
Managing stress and anxiety is hard, but it's even harder when you can't keep up your regular visits to a therapist, the gym, or other ritualistic way to cope. The Rootd Anxiety and Meditation app earned an average 4.6-star review on the App Store for helping anxiety sufferers work through panic attacks virtually with the app's therapist-approved exercises that are conveniently always right in the palm of your hand.
Fun gifts can help lighten the mood, but if you suffer from panic attacks, the anxiety around them can be crippling. Relief from them could be as easy as pulling your phone out of your pocket if you subscribe to female-founded mobile app, Rootd. While it includes tools like nature sounds and guided visualizations, it features a panic button for the moments when you're experiencing the real deal.
Over time, the strides you'll make through the included lessons on short-term changes can lead to long-term shifts in how you handle your anxiety and panic attacks. Devan C. reviewed, "Calming, comforting, awesome support, and the app is lovely to look at (the blue monster is adorable). I've been using the breathing exercise every day and love it!"
Rootd is offering one-year subscriptions to their app at a discount for a limited time, so you can score the amazing features Cosmopolitan, Healthline, Bustle, and CNET have raved to their readers about. Take advantage of unlimited use of the panic button, journal tool, breathing technique tool, body scan tools, guided visualizations, soothing nature sounds, and more while it's discounted for a limited time.
One year of the therapist-approved app can lead to amazing, long-term change, and when you act now, you can save 56% on the price. Get your one-year subscription to the Rootd Anxiety and Meditation app while it's $25.99 for a limited time.
Prices subject to change.
This article was originally published on