This Rainbow Amazon Echo Is Designed For Kids And You Can Officially Buy It Now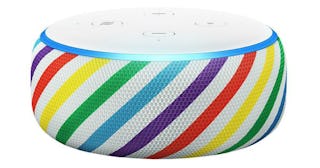 UPDATED: July 11, 2019
Of course the first thing that ran through our minds when we saw this new Amazon Echo was: "Holy sh*t, finally a rainbow smart device!" Well, turns out this one was made just for kids. (AKA adults like us are excluded from the party!) And if you do have a few runts lingering around your home on the daily, this device can come to the rescue and answer nagging questions your kids ask when you don't feel like being a human encyclopedia. Worth. Every. Cent.
What does the Amazon Echo for kids do?
The rainbow device does literally everything except serve dinner. It can answer questions your kids have like, "What do sharks eat?" (if your kid actually asks that, good luck)… It plays cool tunes, tells jokes, runs kid skills, and so much more. What the hell are kid skills? Same.
What are Alexa skills for kids?
Alexa features plenty of interesting kid "skills" that both kiddos and parents find useful. A kid skill called The Magic Door will read bedtime stories, while a different skill called Spelling Bee can help your kid not sound like an idiot at school. There are endless kid skills to choose from. You can even use the Babysitter Skill blueprint, so when the babysitter arrives, he or she can activate it to have an easier time finding things or remembering certain routines.
How do you set parental controls for Alexa?
While the device looks like bright candy, the parental controls available for the Echo are hardcore. You can easily have a little chat with "Alexa" to set time limits, filter music settings, review activity, and more. Amazon makes it easy for parents to manage parental consent when it comes to the different types of content being streamed.
Is the new Amazon Echo safe for kids?
While some moms are quick to snatch up the latest smart devices for their kids, other moms feel freaky about their little ones sharing secrets with a device like this. There were complaints related to privacy concerns when the older Amazon Echo Dot for kids was released. While futuristic indeed, we can't help but wonder: "Can this sh*t be hacked?!" Even moms in our own Scary Mommy office are divided.
Amazon does take children's privacy seriously, and as of June 12, 2019, the company updated their Children's Privacy Disclosure. If you're wondering if Amazon collects data from your child, the short answer is: Yes and no. The long answer is: If you don't give Amazon permission to collect data from your child, then the Echo for kids can be used for kid-related services without storing data. The device will still recognize and process your kid's voice so your munchkin can still use it. If you use third party programs, like apps, websites, and skills, you have to check and adjust settings as you go along.
Is it literally just available in rainbow?
You can get it in blue, too. We just love the rainbow option because it's extra.
Read More:
We Are Your Shopping Assistants For Amazon Prime Day 2019
These Are The Amazon Prime Day Deals Of 2019 Moms Are Going Crazy For
Amazon Prime Day Tech Deals Are No Joke And We're Finding All Of Them
Our mom experts only recommend picks they really love. We may earn a commission on purchases made through links from our site, but if we love it, we know you'll love it. And we Scary Mommies gotta stick together.
This article was originally published on