Official Pioneer Woman Coffee Is Here, And It's Like Dessert In A Mug
by Gina Vaynshteyn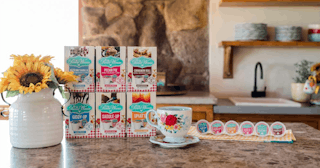 Walmart
It's no secret we'll buy pretty much anything the Pioneer Woman (aka, Ree Drummond) comes out with. Her kitsch-y cookware not only captures all of our vintage floral dreams, but is super high-quality and long-lasting, too. We're thisclose to having a Pioneer Kitchen-themed kitchen at this point, and the only thing stopping us is counter space. So when we learned Pioneer Woman now has a coffee line, we nearly passed out.
"I wouldn't want to live in a world without coffee. To say I couldn't live without it is an understatement," Ree herself says. Now we don't have to live in a world without Pioneer Woman coffee, and that is definitely something we are grateful for.
Pioneer Woman coffee pods are available at Walmart, and they come in several flavors which all sound very delicious: Toffee Crème Brûlée, Cinnamon Roll, Pecan Pie, Caramel Fudge Brownie, French Vanilla, and Hazelnut Vanilla. According to Pioneer Woman's site, we'll also be getting a "Spicy Cowgirl" flavor which will have cinnamon and chile notes.
For those who'd rather stick to coffee-coffee (aka, unflavored coffee), Pioneer Woman has three different blends: Up & At 'Em (a breakfast roast), Saddle Up (medium roast), and Giddy Up (dark roast). For now, Ree's coffee is only available in K-cups, but it's reported that she'll have ground coffee later this year. Yee-haw!