Got A Screen-Obsessed Kid? Here's What To Get Them For The Holidays This Year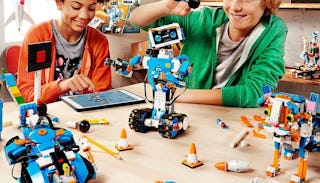 LEGO
Is your kid completely and utterly tech-obsessed? Do you have zero idea what's going with crazy, trendy gadgets but want to snag the best tech gifts for kids? Welcome to the ultimate shopping guide for your screen savvy kids. We swear this whole process will be super painless. From the Nintendo Switch (dubbed the "World's Greatest Gameboy" by Popular Mechanics) to the super fun Scoot Helicopter Drone, your home just became the cutting edge center for cool tech-y toys.
P.S. If your kids are having so much fun with their gadgets that they forget to bother you about other things then SO BE IT.
BEST FOR THE SUPER ORGANIZED KID
If your kids loves to keep things nice and organized, this is the gift for them. VTech Kidizoom is no ordinary watch. It also features an all-in-one combination of *deep breath here* two cameras, an augmented reality gaming experience, a pedometer, a motion sensor, AND comes with a micro USB cable so pictures/videos can be uploaded to the computer. Now that's some good multitasking right there.
BEST FOR THE SOCIAL BUTTERFLY
Nope, walkie talkies are not quaint things of the past. They're super cool gadgets that come in pink camo print and have crystal clear sound. These bad boys can be used indoors and outdoors, have a three mile range, crystal clear sound quality, and offer noise reduction. Your kids will have an absolute blast chatting with each other. Also – lower cell phone bill? Cool, cool.
BEST FOR THE FUTURISTIC FANS
Yeah, so, this is a legit robot that your kid will go 100% nuts for. His name is Abbott (already super cute) and he can walk, dance, and sing. There's also a variety of modes Abbott can be set to, like a quick walk, a slow walk, and a bunch of different kinds of dance styles. He also comes with a variety of music options, so you can all pretty much throw away your radios now.
BEST FOR EMBRACING THE NOSTALGIA
YUP, THAT'S RIGHT. Your kid can take pictures with an actual camera. And this gadget is just cute and cutting edge enough that they won't care that it's not on their beloved iPhone. This baby blue camera features selfie mode (because, duh), a video recorder, a voice recorder, photo collage templates, and photo effects. So, yeah. The iPhone has officially been usurped by an old-school camera and we are so, so here for that.
BEST FOR THE ROBOTICS-OBSESSED KID
Okay, so, robots are cool. But lego robots? Whole other level. This set comes with a whopping 847 (!!) pieces, which can be turned into five different robotic toys, which include Vernie the Robot, Frankie the Cat, Guitar 4000, and Auto Builder. These models come with sensor technology and motor capabilities so they're not just regular robots, they're cool robots. Plus, there's a handy step by step guide just in case, ya know, it gets a little too confusing putting hundreds of pieces together.
BEST FOR THE PINT-SIZED PILOTS
Meet your kid's new favorite gadget. This super cool drone flies through the air, is totally hands-free, and has three motion sensors so you can direct it exactly where you want it to go. It's also super flexible, comes with a USB charging cable, and – don't worry – has a super durable frame that supports a whole lot of crashing into things.
BEST FOR THE VIDEO GAME ADDICTS
Now here's something the whole family can enjoy (unless your kid hogs it which…likely). The Nintendo Switch can be used to play all the deeply addicting video games, whether you're home, out and about, or in a very, very long car ride that requires ALL the entertainment you can get. This model easily switches between handheld, table mode, and TV mode and features a touch screen for ultimate playing ease.
BEST FOR THE MUSICIANS IN THE FAMILY
Want to re-create the movie "Big" in the most adorable way possible? Snag this oversized, interactive piano mat and let the dance party BEGIN. The mat features four different modes (play, record, playback, and demo) and also has a wide-array of different musical instrument sounds (including guitar, piano, clarinet, and trumpet). It's also made from vinyl so it's super durable and comes with 24 keys, which means your kiddos will have their work cut out for them.
BEST FOR THE SCREEN-OBSESSED KID
Your kids love to listen to every single YouTube video ever posted on the internet. You don't want to hear one more YouTube video playing out of their computer. Contixo headphones = the ultimate compromise. They're super cute, very comfy, adjustable, feature FM Radio, and are compatible with pretty much all Bluetooth devices. It also has an extra long battery life – 10 hours and 180 hours on standby – and includes a Micro SD Card Slot.
Regular easels are great. But digital easels?? That's a whoooole other story. This gadget comes with a special pen that helps kids learn their alphabet, numbers, and shapes through light up features on the board. Kids will learn how to draw over 100 objects with super helpful instructions. Did we all give birth to some mini Picassos? We're gonna guess yes, yes we did.
This article was originally published on