Customers Say This $7 Hair Mask Is A Miracle For All Hair Types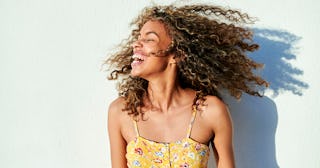 Getty Images/ F.J. Jimenez
The Holy Grail of hair masks has been found, people—and it's only $7 on Amazon. One of the only downsides to fun in the sun is that your hair can get dried out, crispy, and frizzy AF. That's where Elizavecca's CER-100 Collagen Coating Hair Protein Treatment comes to the rescue. It's basically the miracle you've been waiting for to mend your parched locks, and people on Amazon can't stop raving about it.
The Elizavecca hair mask uses collagen to restore dull, dry hair back to its original silky state. Our bodies naturally produce collagen, but giving your hair a collagen boost with a hair treatment like this provides more of the necessary amino acids to build keratin, the protein that makes up our hair. According to Healthline, collagen also acts as an antioxidant that can reverse damage caused by free radicals (stress, pollution, poor diet, and other environmental and health influences).
In short, collagen can do a lot of good, and the proof that this stuff works is in the pudding—over 14,000 people have rated the Elizavecca mask five stars.
"My hair used to be really soft, and then I discovered hot tools and hair dye," one five-star reviewer wrote. "This works so well…I washed my hair with my usual shampoo, towel-dried it, worked about two quarter-sized dollops through my hair, let it sit for 20 minutes, and then rinsed it out. I went to bed with wet hair which usually results in my hair being kind of tangled and rough looking but I woke up and my hair was as soft and silky as it was before I started coloring it."
They continued, "I'm totally in love with this product. I have long fine hair but this doesn't leave it greasy or weigh it down."
Another five-star customer wrote, "I have 4C hair and was looking for a protein treatment…I was very skeptical about this product because I have never seen anyone with my hair type use it. Boy was I wrong to doubt this product. It left my hair looking and feeling beautiful. I highly recommend it to anyone natural or with curly hair."
Silky, smooth hair is just a 20-minute mask away.