With Great Spider-Man Toys, Comes Great Responsibility (To Pick Them All Up When You're Done)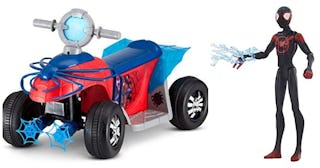 Amazon
Looking for Spider-Man gifts? You've coming to right place. If you're looking for the perfect thing to buy a kid who loves Spider-Man, then the first thing you're going to want to check out is Spider-Man toys. It's the perfect combination of a character they love and look up to, and something that can keep them entertained and busy. There are so many different Spider-Man toys for kids to choose from that there's bound to be something for everyone of any age: plush toys for the real little ones, games for the older kids, and action figures for every child in between.
What's fun about most of the Spider-Man toys is that they're super versatile and will encourage a lot of creative play. There's so much kids can do with a Spider-Man action figure, and those are usually small enough that they're easy to throw in a bag or a stroller and take on the go (always a big plus for a parent!). And if your child has other Marvel or superhero toys, Spider-Man will fit right in.
But there's more than just action figures out there: there are also Spider-Man web shooter toys and costumes that will make your kids feel like they really are Spider-Man, and options that will keep your kids active, like a smartwatch activity tracker and a scooter. And, yes, there are even toys for the kids who love Spider-Man: Into The Spider-Verse. Check out all of the toys below to find the one your little one will love the most:
Spider-Man Action Figures
Spider-Man Web Shooters
Spider-Man: Into the Spider-Verse Toys
Other Spider-Man Toys:
Looking for more kid gift-buying inspo? Check out the rest of our toy recommendations!