The Best Toys And Gifts For Future Sports Stars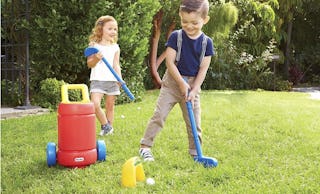 Little Tikes
When your kid loves sports, well, sports = life. I know this struggle well. I'm constantly trying to up my game (see what I did there?) to keep my sports kid happy during the holidays. Your own sports-obsessed kid will be thrilled to get the following gifts this holiday season, so get out your pen and paper and start writing down these ideas.
This is easy to set up, and it's adjustable to grow with your kids. It boasts a clear backboard (just like the pros), and best of all, it's less than 80 bucks. SOLD.
Do you have a little one who wants to be the next Tiger Woods? I mean, in the golf way, not all those other ways. Well, this is a good way to get your kiddo started. Pretty soon, they'll be begging you to take them out onto a real golf course.
Tour de France, here we come. This classic Huffy bike is a great deal and will get your kid out and about, away from the screens and into the world.
File this under one of the best presents Nana ever bought for my kids. Ours lasted for so many years, through so many kids. And then, just as it was getting a bit stretched out from the thousands of jumps, we had a grown-up friend bounce on it, and it went kaput. We just might need to get another one of these this year.
Get your sports fan their favorite team's uniform and helmet so they can go outside and pretend to support you with their NFL salary. This is a fun game for everyone.
$18.29 AT AMAZON
Every miniature baseball fan starts out with a tee-ball set, and this is a great one. It's also less than 20 bucks, so you can't beat that. Maybe you could even learn how to hit a ball with this.
It's a rug. Shaped like a basketball court. Sports kids will freak over this.
This article was originally published on