You Can't Go Wrong With Stacking Toys — Here Are The Best Ones For Your Baby Or Toddler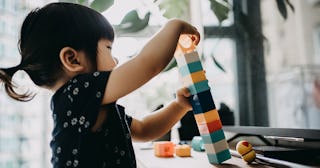 Getty Images/d3sign
Stacking toys are classic — for good reason. There are tons of different kinds of toys out there for little ones, and finding just the right one can feel overwhelming. But when it comes to picking out a fun toy for a baby or toddler, you really can't go wrong with a stacking toy. The best stacking toys are entertaining, educational, and cute enough to double as nursery room decor. It's tough to find toys that actually hold the attention of younger babies, but stacking toys almost always do the trick. It's even better to buy ones that are colorful and feature different sized objects with various textures—these are usually the most interesting ones for them to play with.
What are the benefits of stacking toys?
According to Lea Culliton, the president of HABA USA, one of the oldest toy companies in the world, you can rest easy knowing that while your tot is having fun with their toy, they're also learning something, too.
"From blocks to boxes and so much more, stacking games can be crucial for your child's development," Culliton says. "As children stack boxes, nesting cups, and other colorful toys, they build their problem-solving and fine motor skills while learning about concepts such as balance, height, size, and order. Most importantly, stacking toys and games allow children to learn these skills while having fun!"
Stacking can help boost fine and gross motor skills and help your baby develop better eye-hand coordination. They also help babies learn about spatial relationships (like under and on), and shapes. Overall, they're a great learning tool. Plus, they generally don't take up a ton of space and are fairly simple to clean.
What kind of stacking toys should I buy?
Stacking toys for babies and stacking toys for toddlers can vary, but all in all, you want vivid, colorful pieces. Culliton suggests keeping it simple with color blocks for babies. Toddlers and older kiddos can handle the cool stacking games, cups, etc.
"Simple blocks like the Baby's First Basic Block set are a wonderful introduction to early numeracy skills. Babies begin to develop hand-eye coordination with easy-to-grasp wooden cubes in a variety of primary colors," she explained. "As children grow older, they can tackle more complex stacking toys, such as the Lighthouse Stacking Game, On the Farm Stacking Cubes, or Nesting Stacking Cups. These versatile toys allow children to become acquainted with more complex topics such as counting and balance while continuing to foster key motor skills."
Stacking rings are a popular option, but stacking cups are fun too. The cups can also be used when babies are in the bath or playing at the beach—they're perfect for scooping up sand and water, which little ones really love to do. And they're versatile: while they're appropriate for young babies, toddlers enjoy them as well, so they'll grow with your child. Convinced? Here are the best stacking toys you can buy:
Best Stacking Toys
Best Wooden Stacking Toys
Best Stacking Toys For Toddlers
Best Stacking Rings Toy
Best Stacking Cups Baby
Best Nesting Toys