The Best Stroller Covers That'll Keep Your Kid Dry And Warm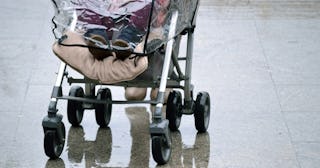 Luis Diaz Devesa/Getty Images
Okay, we're not here to tell you how to live your life, but as we enter rainy/windy/snowy season, YOU ONE HUNDRED PERCENT NEED A STROLLER COVER. Sorry, was that aggressive?
Since we're still in the midst of an ongoing pandemic, going for walks can be a safe activity to do with your kids while also keeping you sane. But sometimes rain happens. Getting caught in the rain might sound adventurous and fun (specifically when there are piña coladas involved), but dealing with mother nature while pushing your baby in a stroller is anything but. The best way to protect them from weather like rain, snow, wind, and everything in between is to invest in a stroller cover — not to be confused with a stroller blanket. Don't worry, it's not a huge investment — they're all pretty reasonably priced. A stroller cover is also a genius way to keep your child protected from COVID and germs in general if they're too young for a mask.
We did the research and found the best stroller covers — ones that are waterproof or water-resistant, have a universal fit, ventilation, storage compartments, an easy-access window, and convenient storage. Here's something to note when making a decision on which to buy — if you see a product listed with an M (Black-M, for example), it means the cover includes a mosquito net.
No matter how many times you check your weather app before heading out for a walk with your kids, you're bound to get caught in some inclement weather at some point. Store one of these bad boys in your stroller's compartment for those just-in-case moments so you can walk stress-free — at least as it pertains to your kids getting wet.
Take a look at the 11 best stroller covers below.
Stroller Covers For Rain
Stroller Weather Shield