The Most Unique Subscription Boxes You Didn't Know You Needed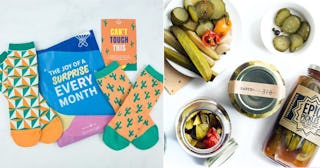 Say it with a Sock / Pickle of the Month Club
There truly is a monthly subscription box for everything — from makeup to wine to yummy snacks to clothes to stickers to artisan crafts to more wine. But the coolest and most unique subscription boxes help you discover new favorites, broaden your horizons, or just gives you a ton of the stuff you already love for a great price. (I mean, does anyone need four wine of the month subscription boxes? Yes, yes they do.) Subscription boxes are the gift that keeps on giving (literally), and it's the perfect idea for a birthday, Mother's Day, or any special occasion (including "just because"). Some subscription boxes are so useful and convenient, they may just be a gift to yourself! Because let's be honest, getting things delivered is much easier than having to constantly shop for it over and over.
Are subscription boxes a good gift?
Definitely! A unique subscription box filled with weird and cool new items can bring a lot of joy way beyond any holiday, birthday, or other milestone celebration. Because having a fun little something to look forward to each month can sometimes be the encouragement we all need.
Once a month or so, a box shows up on your doorstep, unannounced but definitely welcomed. It's always full of new products you likely never knew you wanted. So, if you (or your giftee) don't already subscribe to one (or more than one!), it might be time. We put together a list of the most unique subscription boxes — a few you may already know and love and several others you've probably have yet to discover. Enjoy!
**The prices listed are per box.**
Unique Subscription Boxes
More Unique Monthly Subscription Boxes
Cool Subscription Boxes for Guys
Weird but Cool Subscription Boxes