Remain Calm: You Can Now Pre-Order A Talking 'Baby Yoda'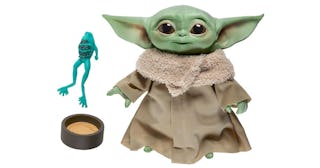 Amazon
This Baby Yoda doll coos and "talks" and is available for pre-order now
Baby Yoda madness is upon us! Ever since the Star Wars spin-off The Mandalorian launched on Disney Plus, everyone has been obsessed with the tiny Yoda character in the story. Although we all scream "Yas baby Yoda!" at the little creature, he's actually called The Child and is a 50-year-old creature of the same species that the iconic Yoda is. Semantics aside, everyone is making "Baby Yoda" toys and dolls and finally, there's one that "talks."
RELATED: 10 Best Disney Toys To Keep Kids Living Their Most Magical Lives Right At Home
To be fair, "The Child Talking Plush Toy" by Hasbro doesn't necessarily say words, but rather, it coos and makes all those adorable baby sounds that made you fall in love with The Child in the first place.
If you squeeze the toy it makes 10 different sounds and comes with a bone broth bowl and Sorgan frog, which are, as we all know, Baby Yoda's favorite snacks. The little guy is 7.5 inches tall and retails for $24.99.
"Now you can become his protector with this cuddly plush toy," reads the description. "Dressed in the cutest little robe ever seen this side of Mos Eisley. Posable arms let kids pretend the Force is within their reach, while a squeeze of the toy's soft plush body activates character sounds."
Like the other Baby Yoda toys on the market, this one is also not available until spring 2020, but you can preorder the talking Baby Yoda now. Entertainment Weekly reports that the reason none of these Baby Yoda dolls are available now is because The Mandalorian was shrouded in so much secrecy, that the toy manufacturers couldn't start designing their dolls until the show launched in November, which makes sense, but sucks for everyone who hoped to unwrap a Baby Yoda on Christmas morning.
If you can't wait until spring 2020 to cuddle your own Baby Yoda, you can make your own. Etsy shop owner PhilaeArtes is selling a crochet Baby Yoda pattern for only $5.
Or, if you're The Mandalorian creator Jon Favreau, you can just have a Baby Yoda ornament 3d-printed. No big deal.
Other Baby Yoda items available now for pre-order include this 11-inch plush "Baby Yoda" Mattel toy from ShopDisney.com ($24.99).
Funko Pop has a couple items too, like this ten-inch Funko Pop Baby Yoda ($29.99).
Hasbro also just launched these 2.2-inch collectibles ($15.99 for a two-pack).
The new Disney Plus series follows a Mandalorian bounty hunter through the outer reaches of the galaxy, and while Pedro Pascal does a great job as the titular bounty hunter, let's be real, we're all here for that baby.
This article was originally published on