10 Best Ways To Brighten Your Smile When The Dentist Is Closed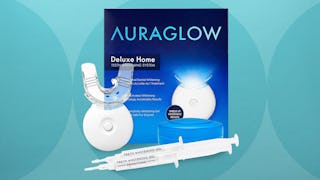 Your daily cup (or two or three) of coffee in the morning and glass (or two or three) of wine in the evening might be good for your sanity (how else are you going to simultaneously handle an overbearing boss and fussy toddlers day after day?!) but they're not so good for your teeth. I.e. your grin is more dull than dazzling thanks to the years of stains and buildup from the above.
And while you dream of bright white teeth and a smile that wouldn't even require a filter on Insta, the last thing you want to do is shell out thousands of dollars on a procedure that's really just for vanity purposes. Fortunately, you don't have to. Because at-home teeth whitening kits exist—and they're surprisingly affordable and effective. Seeing as to how we're still in the middle of a pandemic, scheduling an appointment to see your dentist (as safe as it may be with all safety measures in place) may not be the first thing on your agenda these days. And that's totally okay, BTW!
To help you put your best face—and smile—forward, we've rounded up the best teeth whitening kits below, from kits that use LED lights to brighten your pearly whites to teeth whitening pens that promise a quick fix. Now say cheese for your next Zoom meeting!
Best teeth whitening kits
Best natural teeth whitening products
Need a pretty hair accessory or glowy foundation to pair with your new smile? Browse all of our beauty must-haves here.