This Beast Blender Makes The Best Smoothies, And Looks Sexy On Your Countertop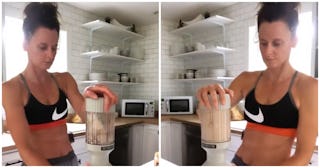 Katie Smith/Scary Mommy
If you're looking for a blender to take your smoothie game to the next level, let me introduce you to your new best friend in the kitchen. The Beast Blender just hit the market, and I can't stop using it. Take from someone who has used a blender every day for almost a decade: This is the GOAT blender. This puppy crashes ice and my frozen fruit (I'm talkin' frozen, hard bananas that have lived in the freezer for four months) like no blender I've used before. The Beast literally gets used four times a day in my house (and by a few teenagers at that), and never disappoints.
To the delight of those who sleep in at my house, this blender is quiet, not to mention it looks amazing on my countertop. (I went with a gray because it matched my island but the black looks very chic, too.) This, by the way, is what it was designed for. Unlike a lot of clunky kitchen appliances, The Beast looks minimalistic and lovely on your counter space. It's truly a sexy (yes, sexy) blender you can leave out all the time because it looks absolutely fabulous with the rest of your kitchen decor and hardly takes up any space.
It comes with this hydration system, which I also love because I can take the bottle with me to spin class, and carry it around all day to make sure I have enough water. You can put herbs in the middle of it to flavor your water, and make yourself feel fancy. For under $200, this blender serves dual purposes — and is also a total workhorse. If I'm going to invest in a kitchen appliance, it better prove its worth, which is totally does.
I also love how I can just stuff my ingredients into the glass screw on the bottom, press a button, and go about my business. But my favorite feature of this blender is the fact that you don't have to worry about it coming unhinged, going crazy, and bouncing all over your countertop. It's built extremely well, and has held up. It's designed to have slow and controlled motions, and even stops to pause, then continues to mix on its own.
The Beast countertop design doesn't take up a lot of room, and is super easy to clean. It comes with two mixing containers, so whatever you're making, there's a storage for it. You can also unscrew the cap and drink right out of the mixing compartment.
Can you tell I have a huge crush on this Beast?
This article was originally published on