Cute And Comfy Toddler Flats That Are Perfect For Spring And Summer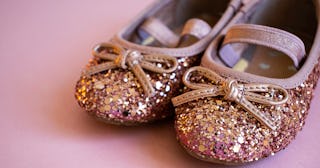 Getty Images/SACheckley
The perfect pair of shoes for toddlers are comfortable, cute, and versatile. And that's exactly how you would describe the best toddler flats, whether you choose to go with classic toddler flats, toddler ballet flats, or go with something more sparkly, like gold flats. These sweet shoes are great for so many different occasions, and can usually easily be dressed up (like with a dress) or down (like with leggings). They're comfy on your tot's little feet, even if they don't offer quite as much support as a pair of sturdy sneakers. And honestly? They're just so adorable. Toddler flats look like slightly larger versions of doll shoes, which is kind of the cutest thing ever.
When you're looking for the perfect pair of toddler flats, you also want to find something affordable. Toddlers grow so fast, and before you know it, they'll size out of a pair of shoes they love, so there's not really any point in spending a lot. Plus, they're also not known for being the neatest people ever, so the chances of them getting their shoes filthy or even breaking them are pretty high.
The below shoes fit the bill in every way, and they're so great that you'll probably have to stop yourself from buying all of them at once. Don't say we didn't warn you!
Best Toddler Flats
Best Toddler Girl Flats
Best Toddler Ballet Flats
Best Toddler Gold Flats
Best Toddler Black Flats
Best Red Toddler Flats