The Best Toddler Leggings, Because Our Littles Want To Be Comfy 24/7 Too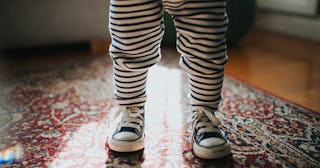 Getty Images
Toddler leggings are as much a wardrobe staple for your LO as they are for you. (Side note, Mamas: These butt-sculpting leggings are absolute game-changers.) There are so many reasons to stock up on toddler leggings for boys and girls, and if no one's told you this yet, listen up. Anyone who has potty trained a tot knows just how essential good stretchy pants are to the job. The ability for our babes to dress themselves (because as you know, "ME DO IT!" is perpetually ringing in our ears) and gaining that sense of independence is not only a self-esteem booster but a mommy sanity must. No more diapers and no more dressing a squiggling eel … #winning!
Leggings are traditionally seen as a thing girls wear under dresses or as pants, but there is a whole fashion movement toward slim-legged athleisure wear for boys, toddlers included. A good pair of leggings, a lightweight jacket, and a cute pair of sneakers will become your tot's spring uniform, since dressing for that in-between weather is like a riddle for kids (and us grown-ups, too). Investing in a few pairs of basic color leggings allows for easy mix and match dressing, (plus, those darker colors will hide stains) while our kiddos stay comfy as they master all those new skills. We also love a good pair of fancy unicorn leggings for those days when they're feeling extra special, because why not?
We've rounded up our favorites for best toddler leggings marketed for boys and girls (really, many options are gender-neutral), but we say: Let them wear what they want!
Best Toddler Girl Leggings
Best Toddler Boy Leggings
Looking for more great toddler must-haves to make mom life a little less dramatic? Check out all of our mom-approved baby gear!