This Matte Lipstick Instantly Pulls My Look Together & It's 50% Off Right Now
by Amanda Davis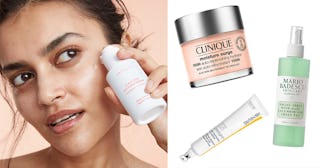 Ulta
Us beauty and skincare fanatics look forward to Ulta's 21 Days of Beauty Aale every year. It's like an early Christmas present to ourselves, and a very convenient way to keep our makeup organizers stocked. Maybe it's time to replenish that expensive moisturizer you love, or you're ready to finally try those blemish patches because it's a price you can't pass up. If you're like me, you've been eyeing a couple of face masks for a while, and now is our chance!
When is the Ulta 21 Days of Beauty Sale?
The Ulta 21 Days of Beauty Sale is happening from August 29th through September 18th, 2021. In other words, it's happening now!
How does the Ulta 21 Days of Beauty Sale work?
Every day for three weeks (8/29-9-18), Ulta provides new, day-only deals for cult-favorite beauty products. This year, things are 50% off! Luckily you can plan ahead and make sure you get everything you want by checking out the entire sale calendar on Ulta's website.
RELATED: 10 Best Products To Minimize Sun Spots— The Sun Is Your Ultimate Frenemy
To save you hours of comparison shopping, we scouted out the brands we know Spotted readers love. From Clinique to Mario Badescu, we've got you covered. If you're ready to refresh (or replenish) your routine check out our top picks below!
Best Ulta 21 Days of Beauty Deals
Week 1 (August 29th-September 4th)
Week 2 (September 5th-11th)
Week 3 (September 12th-18th)
If these products have inspired your next shopping spree, you'll love browsing more of our mom-approved beauty must-haves!
This article was originally published on