From Cool Sneaks To Pour Over Coffeepots, We Know How To Get Dad To Smile This Valentine's Day
by Anjerika Wilmer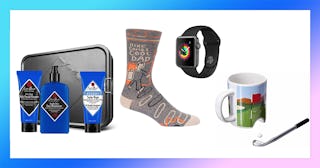 Amazon
Your dad is awesome sauce, and you want the entire world to know it. Is it just us, or are dads the most difficult family member to shop for? Kidding (sort of). It's either they already have everything they could possibly ever want/need (AirPods, check) or they're extremely picky. It goes without saying that fatherhood ain't easy… and that's why we're more than willing to bend over backwards to acknowledge the fact that he's a pretty cool dude.
RELATED: It's All About The Kids This Valentine's Day — 21 Gifts They'll L-O-V-E
There's no time like Valentine's Day to show dad just how much he means to you. It's the very least you could do. Think back to ALL those times that he was there to lift you up (literally and figuratively). Just think of all the dance recitals and baseball games that he wouldn't miss for the world. Or that time he gave you an extra scoop of ice cream when mom specifically said "no." Whether you shower him with baked goods and chocolate, keep it sentimental with a personalized gift, give a gift that the whole family can do together like a tie dye kit, or take the practical route with socks and undies, we've got you covered with 16 amazing Valentine's Day gifts for Dad that are guaranteed to hit the mark.
Valentine's Day Gifts For Dad
Valentine's Day Gifts For New Dad
Valentine's Day Gifts For Dad From Daughter
Really want to knock his socks off? Be sure to check out the best gift ideas for new dads.