Vans Is Dropping A Line Of 'Nightmare Before Christmas' Shoes
by Valerie Williams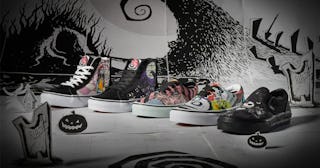 Vans
Get ready to shop, because this line of Nightmare Before Christmas-inspired Vans drops tomorrow
Spooky season is here and it is fully underway. You can feel it in the crisp in the air, the way night falls earlier and earlier every day, how all your social media feeds are filled with that gif of a guy dancing with a pumpkin on his head.
There's no better way to celebrate spooky season than by dressing up (duh), and we have just the way you'll want to do it this year: By buying every pair of shoes in this new line that Vans created inspired by The Nightmare Before Christmas.
Yep, that's right. Tim Burton fans, you are officially heard. As Jack Skellington put it, "I can't believe my eyes!" These Vans are what every Disney and/or spooky fan needs in their lives. Oh, and they drop tomorrow, so get ready to start shopping. Happy Halloween, fam, it has cometh early.
The Vans x Nightmare Before Christmas collection is a lot like the brand's Harry Potter collab that dropped earlier this year. It has the classic Vans sneakers, but also includes a bunch of other goodies, like shirts, sweatshirts, hats, and other accessories. Basically, you can channel your inner Sally or Jack from head to toe, just as one should at this time of the year.
And TBH, you'll need to dress in this stuff from head to toe, just because you'll end up buying all of it. It's all so good, there's no way to just pick a few pieces to have. From the patchwork-patterned sneakers that look just like Sally's stitched-together, ragdoll dress, to slip-on shoes that look like Oogie-Boogie's terrifying underground lair, to a hoodie featuring a screen print of Jack's famous silhouette against the giant Halloweentown moon, you'll just want them all. We want them all.
There's even a pair of shoes featuring Max, Jack's undead pup pal. No matter which character or part of the movie you like best, you can now wear it thanks to Vans.
The entire line becomes available to shop both in stores and on a dedicated Nightmare Before Christmas page on the Vans website tomorrow. You might want to move quickly, because there's already a ton of buzz around this line and we have a strong feeling they won't last long. Happy Halloween to all the spooky season fans who are about to literally wear their spirit on their sleeves.
This article was originally published on