I Found My Next Pair of Glasses Without Actually Trying Them On
by Team Scary Mommy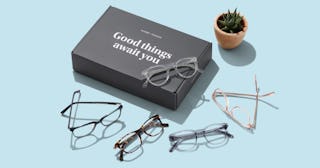 Warby Parker
These days, just running simple errands like groceries can feel overwhelming. The last thing any of us want to do is leave the house. So when it comes to shopping for necessities, like new clothes, office supplies, kitchen gear, we just do it online. But what about when it comes to getting a new pair of glasses? Normally, that would require going to the mall and trying on dozens of different pairs of frames, and that just isn't our vibe anymore. Luckily, you can still order glasses online, and you can try them on beforehand — on the internet. Plus: Are your vision benefits expiring soon? Use your FSA or HSA to purchase prescription eyewear, contact lenses, and even cover an eye exam.
Warby Parker is all about an easy, fun, and seamless eyewear shopping experience, both online and in-person (you can easily make an appointment for safe, social-distance-friendly shopping if you'd like). With eyeglasses starting at $95 (including prescription lenses!), sunglasses, contacts, and eyewear accessories, Warby Parker is a one-stop shop for all your vision needs. Wherever and however you prefer to browse, they've scrapped the guesswork that so often goes into searching for frames.
Take a quiz to get style recommendations and then try them on with their free Home Try-On program. (The gist: They'll mail you five frames to take for a spin for the next five days. You just put the frames back in the mail when you're done! Again it's totally free, including shipping and returns.) You can also use their wildly realistic Virtual Try-On tool in the Warby Parker iOS app to try on glasses and sunglasses, wherever, whenever, seeing the realistic color, texture, and size of each style, with an iPhone X and above. (That's also free, woohoo!)
To order glasses, all you need to do is provide is your glasses prescription (Warby Parker does offer eye exams at certain locations, but that you'd have to do in person) and frame of choice. It's seriously that easy.
RELATED: Kids Need Glasses? We've Got 13 Best Eyeglasses For Kids + Expert Tips On How To Get The Best Fit
If you're staring at screens more these days (who isn't?), Warby Parker's blue-light-filtering lenses could help you out. They filter more blue light than their standard polycarbonate and high-index options, and you can add them to any pair (with or without a prescription) for $50. Plus! Save 15% when you order multiple pairs of prescription eyeglasses or sunglasses, including frames with progressive and prescription blue-light-filtering lenses.
We're pretty psyched about Warby Parker's glasses "hack," since getting glasses for ourselves and our families just became way less stressful.
This article was originally published on