One Small Act Of Kindness Inspires A Landslide Of Positivity
by Christina Marfice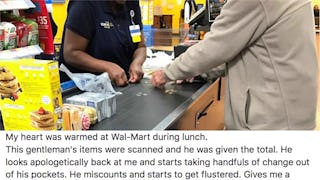 Image via Facebook
A viral Facebook post is the reminder we need to be kind to one another
A reminder to be kind to others is never a bad thing. Enter Spring Herbison Bowlin, a Mississippi woman who witnessed an act of genuine kindness at her local Walmart, and decided to share it via Facebook. Get ready for the pick-me-up you didn't know you needed today.
"My heart was warmed at Wal-Mart during lunch," Bowlin wrote.
Alongside a photo of a cashier and a man counting out change at the register, Bowlin continued, "This gentleman's items were scanned and he was given the total. He looks apologetically back at me and starts taking handfuls of change out of his pockets. He miscounts and starts to get flustered. Gives me a muttered, 'I'm so sorry.' His hands and voice are shaking."
Oh boy. Who hasn't been here? The checkout line can be a stressful place, especially when a line builds up and you start to feel rushed. But the cashier wasn't about to let the man be rushed or embarrassed.
"This beautiful cashier takes his hands and dumps all the change on the counter and says, 'This is not a problem, honey. We will do this together,'" Bowlin wrote. "He continues to apologize to both of us as we reassure him it's ok. They get his transaction handled and he shuffles away."
Bowlin was (for good reason) touched by the interaction she had just witnessed, but to the cashier, it was nothing out of the ordinary.
"I looked at this wonderful woman and said, 'Thank-you for being so patient with him,'" Bowlin wrote. "She shakes her head and replies, 'You shouldn't have to thank me, baby. What's wrong with our world is we've forgotten how to love one another.'
I want to be more like her."
Maybe that is what's wrong with the world. Goodness knows Bowlin's post has resonated with the tens of thousands of people who have liked and commented on it.
Will this inspire people to do something kind today? Here's hoping.
This article was originally published on