Amazing Program Lets Sick Children Go On Real-Time Adventures Without Leaving The Hospital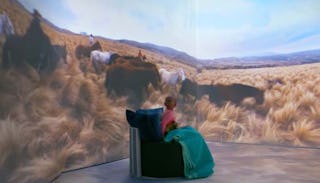 "St. Jude Dream Adventures" takes kids on personalized trips by using a 360-degree installation at the hospital
The thrill of swimming with exotic fish up close or running beside the wild horses of Argentina are adventures people hope they might one day experience. But for kids with serious illnesses who have to stay in their hospital beds, such trips can seem more like a distant dream. Ones that Expedia now makes happen for sick children who are receiving treatments at St. Jude's Children Hospital.
"St. Jude Dream Adventures" takes kids on personalized trips by using a 360-degree installation at the hospital and live-streaming technology at the travel site. An Expedia employee who has also been impacted by a serious illness acts as a tour guide for the child and leads them on a trip that created just for them. Expedia employee Sara, who survived a brain tumor, takes a little girl who loves horses on a trek across Argentine plains, Ad Age reported.
Chera, who leads a young boy on a monkey escapade, said the project was important to her because several of her family members have been diagnosed with cancer. Reenie, whose family has also battled cancer, goes diving in Mexico so Hannah, who has since passed away, could experience an underwater tour. "I had an amazing day," Hannah said when describing the St. Jude Dream Adventure. "I got to escape and kind of relax."
The joy and wonder the kids experience will have you crying in minutes. The real-time component lets the kids interact with the guides and special guests on the tour. Smiles spread across their faces as they excitedly "touch" the objects and ask questions about the natural wonders found in the different locations, which included Cordoba and Talampaya Park in Argentina, Monkey Jungle in Florida and the Great Maya Reef in Mexico.
Expedia released the series of videos on their YouTube page, but the partnership with St. Jude's is a long-running relationship that the company considers a major priority. "We are in active discussion with St. Jude about building a permanent installation so that more kids can experience adventures," said Vic Walia, Expedia's senior director of brand marketing. "This is not just a passing fancy."
You can donate your Expedia travel points to the program so more kids can experience the St. Jude's Dream Adventures. Watch all of the adventures in the video below.
This article was originally published on