The Sally Frappuccino Is The Most Frightfully Colorful Drink On Starbuck's Secret Menu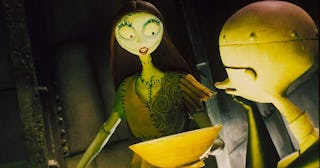 Walt Disney Pictures
There's another Halloween-themed drink on the Starbucks secret menu and it's brimming with spooky colors
If you love Halloween and you love Starbucks, you're in luck, because there's yet another delicious Nightmare Before Christmas-themed drink at your local coffee spot. We only recently learned about the Jack Skellington Frappuccino. But now, there's another new frapp that has people lining up to get their hands on a spooky new treat.
While you have to be in-the-know, because it's on the secret menu (where all the best stuff seems to hide), the newest drink, the Sally Frappuccino, is definitely worth knowing about. Not only because it's downright delicious, but because the aesthetics alone make it worth ordering a couple of times while it's (sneakily) available.
Have a peek!
The drink looks beautiful, right? It's more than just a pretty pile of whipped cream, though. So, don't even dream (or have nightmares) about being let down by this scrumptious caramelly concoction. Instagram users are raving — they say this drink is so good you may need more than one. Especially because it's hard to get a good Instagram photo when you're drinking it so fast!
https://www.instagram.com/p/B3XJDSEAjMu/
Is your mouth watering yet? Well, here are the deets: The Sally Frapp is a matcha Frappuccino with caramel drizzle in the cup with whipped cream (alternatively, you can get a vanilla bean creme frapp and ask to add matcha powder, if you want a less subtle green tea flavor). Then, ask for caramel sauce and strawberry puree to go on top. According to one experienced Instagram user, @orionseye, it's important to note that you want to strawberry on top or they may mix it into the frapp, and then the color dynamic would be way off.
Now that would be a nightmare.
https://www.instagram.com/p/B22sPqMAIR5/?utm_source=ig_embed
Since the Sally frapp is constructed from regular Starbucks menu items, you can get it year-round, but this is clearly a drink that's meant for this time of year. Halloween is practically here, after all! So, if you haven't decorated, carved your pumpkins, bought candy, or your kids' costumes, go grab a Sally Frapp and kick it into high gear. It's the perfect way to get a boost, a pop of color, and a great shot for your Instagram. Because while it's totally drinkable, it's also pretty damn grammable, too.
This article was originally published on