Start Traveling With Your Kids When They Are Young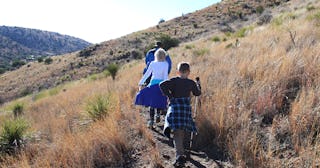 Courtesy of Sarah Styf
I took my first cross-country trip when I was six weeks old. My mom packed me up onto a plane to fly the two of us across the country from California to Michigan for my uncle's wedding. When the three of us moved to Michigan the following year, I had officially had the traveling bug thrust upon me. For the next 18 years of my life, my parents would take the four of us girls to nearly all corners of the continental U.S. More often than not we would take those trips to visit family, but even that took us to Canada, upstate New York, Texas, California, Washington, and everywhere in between.
During the course of my childhood, I never once spent a whole calendar year in a single state. Even as the oldest child of a churchworker and a stay-at-home mom, travel wasn't a luxury; it was a necessity. Grandma and Grandpa lived in Canada so I spent my earliest summers on Lake Huron, one summer flying from Ontario to Alberta and then riding in a car through the Rocky Mountains to British Columbia, and eventually a couple of memorable years sightseeing around Toronto.
When another uncle got married in Washington, my dad, his cousin, and one of my little sisters and I traveled in our station wagon from Illinois to Washington and back, making stops in Wyoming to see our future home, Little Bighorn to see a National Historic Site I didn't understand, and Mount Rushmore (in what would be my first of at least three stops there over the years). I celebrated my twelfth birthday in San Antonio when we traveled there for summer vacation to visit my aunt and uncle, and my eighteenth birthday was spent preparing for a trip to Ontario for an anniversary celebration at the church my grandfather had served when I was a toddler.
In high school, I stretched my legs on my own, traveling with our church youth group to youth events in Tennessee, Texas, and Utah. I went on a youth travel team that took me all the way to El Paso and then Mexico (for a few hours at least). My senior year, a friend and I decided to declare independence by driving from Michigan to Ohio, through Indiana, for a youth retreat, my little sister along for the ride. While it wasn't my best demonstration of adolescent responsibility, it was an assertion of independence that stuck with me as I approached high school graduation.
By the time I was in college, travel was a fact of life. I went to the Pacific Northwest and Florida on two separate college choir tours. I spent the first semester of my junior year studying in London, taking the first two weeks before classes started to travel to four other countries on the European continent. When my two classmates and I told our parents that we were planning to do so, our parents protested. But we were 20 and we weren't asking for permission (even though in retrospect we're lucky that attitude didn't blow up in our face), so we made our plans to backpack for two weeks with occasional check-ins whenever we got to a new city. By the time I returned from my semester abroad, I was able to add seven more countries to my list of places traveled.
Even married bliss didn't cure my travel fever. While I haven't left the country since my husband and I married over seventeen years ago, we have continued to travel all over the country, often camping when other options (such as my in-laws getting the whole family a condo in Key West) are not available.
My parents, who didn't care whether or not the four of us girls wanted to travel because we were going to do it whether we liked it or not, raised a daughter who became a mother who didn't care whether or not her kids wanted to travel because we are going to do it anyway.
I truly believe that good travelers can be made. I don't just believe that good travelers can be made; I believe they must be made.
Mark Twain once said, "Travel is fatal to prejudice, bigotry, and narrow-mindedness, and many of our people need it sorely on these accounts. Broad, wholesome, charitable views of men and things cannot be acquired by vegetating in one little corner of the earth all one's lifetime."
Because travel has always been such a huge part of my life, I'm floored when I meet people who have never left their state of origin, or even their region of their state of origin. Growing up I only had two Barbies, I never got to order from Scholastic book orders, I never got a Cabbage Patch Doll, my mom sewed most of my clothes, I never got to take ballet, and there were years when my parents only had one car. But they always found money for gas to take us to see family. Sometimes it was as boring as a trip to Iowa to see my great-grandmothers and my dad's cousins. Sometimes we got to pile on sightseeing stops like driving to Niagara Falls and seeing both the Canadian and American side. Travel was a priority, a priority that my parents passed along to me.
I know that there are a variety of factors that keep people from traveling outside of their little corner of the world. Some of it is desire, some of it is financial, and sometimes people just don't know how or where to start because no one ever taught them how. This is especially true for parents of small children. And I get it. With two growing littles myself, I know how hard it can be to pack up clothes and toys and food and everything else that we think that we need so that we can then pack up our kids into carseats and drive miles and miles to get to a new location.
And I can't say that we have had smooth sailing trips over the last ten years of parenthood. Our daughter suffers from occasional motion sickness. We've rushed to grab bags for vomit and have made unplanned stops for clean up. Two years ago we had to fly home to Michigan for a wedding and our daughter, who had survived the first leg of the trip without any issues, threw up on the landing in Grand Rapids. It took everything to get her back onto a plane to return home, but this time we pulled out the Children's Dramamine. We've suffered through screaming babies, disastrous spills, thrown items, fights in the backseat, and even a broken arm after a rest area stop in Missouri.
When our kids were younger, we allowed fears of all of the above to keep us from taking extra long road trips, but like my parents before me, I didn't feel like I had much of a choice; I couldn't avoid travel entirely. Since having kids, we haven't lived closer than two and a half hours from family. If our kids were going to see grandparents and aunts and uncles and cousins, we had to travel. And by the time we had kids, we had built up a whole list of dream vacations we wanted to take someday with our unborn offspring.
So travel we have. When our daughter was a baby, we drove to Tennessee from Indianapolis to take her to the Great Smoky Mountains. When she was a year older, she traveled with me and my parents to North Carolina and then across the country to Kansas for two different cousin weddings. The following spring break, my husband left his seven-month pregnant wife home and flew to Florida with our not-quite two-year-old on his lap so she could spend time with his vacationing parents while he attended a conference. Not much changed when our son was born, except now we had to entertain two littles in the car instead of one. Like their mother, our kids haven't spent a single year of their life in just one state. When we plan vacations, one of my son's first questions is "Are we going to a new state?" They want to see everything and experience all of the things, something fills my heart with overwhelming joy
In a November 2018 episode of the podcast Pantsuit Politics, co-host Beth Silvers said "You can't know our country through the Internet." She went on to talk about how it is great to have so many tools at our disposal to learn about the world around us without leaving our homes, but that isn't enough. You can gain knowledge through reading about different places, but "you gain wisdom from actually being in a place."
We live in a huge country, something I never really considered until I left the United States for three and a half months to travel around Europe. Traveling to a new country on the continent was similar to my childhood experiences in the U.S. traveling to new states. I found it difficult to explain to the Europeans that I met that the U.S. was as varied in its geography and demographics as the entire European continent.
We live in a big country and when we have limited experience with people from different regions, we find it easy to generalize and stereotype our fellow Americans. As Pantsuit Politics co-host Sarah Stewart Holland put it, we "put every state through a filter" of what we see on the news and on the Internet. Instead of remembering that everyone around the country is an American, we dehumanize and turn people into a caricature of what we see in a couple minutes on TV or in a social media meme.
Every time I have taught The Adventures of Huckleberry Finn, I have asked my students which of them has actually seen the Mississippi River. I have taught the novel in Illinois and Indiana, well within a six-hour drive to the Mighty Mississippi from any of those locations. Every year I was floored by the number of students who had never seen the river, who couldn't contextualize the size and scope of the river that plays such a large role in Twain's novel. By contrast, last year (without us planning it) our kids saw the far northern banks of the Mississippi while we were camping in Wisconsin on summer vacation and then travelled across the far southern portion when we went to New Orleans during Thanksgiving. After a year of multiple Mississippi crossings in different places, they now ask if we are crossing it every time we come across a large expanse of water.
I believe that one of the best ways to tone down the rhetoric that is tearing us apart is to step outside of our little worlds and see our country through the eyes of our fellow citizens. It isn't enough to see pictures of farmland; we need to drive through and meet the people who plant and harvest our food. It isn't enough to watch movies set in the big city; we need to walk the streets and see the kaleidoscope of characters working and living their lives side by side. It isn't enough to watch a documentary about our national parks; we need to walk on the trails and smell the clean air and learn from our park rangers how we can better care for our natural resources.
And we must start early. Our nation's young need to interact with people unlike them and see places unlike home and get up close and personal with our history. That doesn't mean dropping everything for a four-week cross-country trip with toddlers who need potty breaks every 90 minutes, but you can start small. Commit to a day trip to a state park if you live in the city. Or go to the city to visit a museum or two if you live in the country. Map out the closest location in the next state over and go for a weekend. Start small and add distance with each little adventure.
Raising kids who are going to make a difference in their world, no matter how small, means committing ourselves to teaching them just how big their world is. And who knows? We might learn something along the way as well.
This article was originally published on