Watch This: The 4 Steps To Successfully Nursing In Public
by Wendy Wisner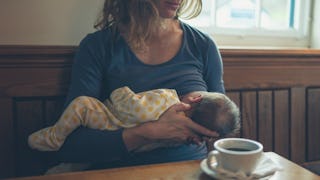 lolostock/Getty
Despite the fact that breastfeeding in public is legal in all 50 states (Idaho finally became the 50th state to legalize it in June of 2018!), any breastfeeding mom knows that it's one thing to say that you are allowed to breastfeed at a restaurant, a park, the pool, in line at the grocery store, or anywhere where you legally allowed to be – but it's an entirely different thing to actually whip it out and do the deed.
It's not that most breastfeeding moms give a crap about popping out a boob to feed their kid. I mean, once you spend a week living in mesh panties and t-shirts stained with breastmik, you have no shame. It's that so many of our fellow citizens find the idea of feeding with boobs, like, really uncomfortable. And some of them aren't that shy about telling us so, or at least giving us some nasty side-eye.
Look: if you feel more comfortable feeding in a private space or with a nursing cover, more power to you. Just like all feeding choices, we all have to do what works for us. But if freely feeding your baby as you sit down to sip your latte at Starbucks is your idea of a nice afternoon, you should not hesitate.
That said, there are definitely some tips for how to make NIP (nursing in public, that is) even more comfortable. Don't worry: Momsplained has got you covered. Check out these essential NIP tips, here:
[ss_featured_video]
This article was originally published on