Kardshians Celebrate Stormi's 3rd B-Day In Turks and Caicos, You Know, As You Do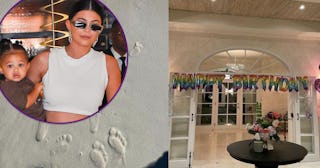 Raymond Hall/GC Images/Getty
Stormi Webster celebrates her 3rd birthday in Turks and Caicos with mom Kylie Jenner
If you're a normal person in the world, chances are your kid's third birthday is celebrated with a party at home, a cake, and some friends, and if you're really going big, you splurge on some Frozen cast impersonators. But if you're a Kardashian, you celebrate your kid's third birthday by going to Turks and Caicos, you know, a toddler b-day party they'll never forget and honestly, probably won't appreciate.
Per E!, Kylie Jenner celebrated her daughter Stormi Webster's 3rd birthday (she officially turns three on February 1, 2021) with her cousins and their moms in Turks and Caicos, which is open for tourism amid the pandemic. Unlike Kim Kardashian's birthday party in which she rented an entire private island for friends to party during a pandemic, Kylie's opulent party for her toddler has surprisingly, not gotten any flack online. Perhaps the internet outrage machine is exhausted, or maybe we've reached the point in the pandemic when travel photos give us normies hope for the future? At any rate, Kylie invited Kendall Jenner, Kim Kardashian, Kourtney Kardashian, and Khloe Kardashian and their kids along for the trip and shared pics from their lavish vacation online. So interpret these Kardashian vacation pics how you will and never forget, it's for Stormi's 3rd birthday.
Kim also shared pics of the kiddie bday trip online calling it a "Girls Trip."
Honestly? It's really cute how close the Kardasian sisters and their kids are. Honestly? Good for them. And honestly? At this point in the pandemic, I've had to "let go and let God" with all these celebrities constantly traveling during the pandemic, because rich people are truly allergic to COVID-19 precautions. Also, I really have to laugh at the sheer ridiculousness of Stormi's birthday trip being more lavish than most people's honeymoons, I mean…
https://www.instagram.com/p/CKsTrLtn9Ji/
In other news, United States COVID-19 cases have continued to decline and although the race to get vaccinated continues to be a cluster-fuck, every day we move closer to going somewhere with our families that kinda-sorta comes close to the epic-ness of Stormi's ridiculously lavish 3rd birthday party. Ah, to dream.