Travis Scott Got Stormi An Actual Cinderella Carriage For Christmas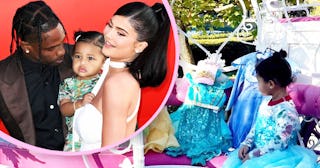 Jon Kopaloff/Getty and Kylie Jenner/Instagram
Comes with a wardrobe full of princess dresses!
Stormi Webster lives a fairy tale existence that's better than most reigning monarchs. This is not hyperbole: Travis Scott gifted his daughter with a Cinderella carriage for Christmas. Get ready for the best part: the getup came equipped with wardrobe options: multiple princess dresses, perfect for a little queen-in-training. Kinda makes the gift certificate you got from your Aunt Gabby for a store you shopped at once when you were 14 seem super lame, doesn't it?
Kylie Jenner posted the Christmas fun on her Instagram Stories. The white pumpkin Cinderella carriage, excuse me, Stormi carriage, pulled up to Kylie's house with the 2-year old's name on top in the legendary Disney font. The design featured hearts, swirls, and a princess-pink velvet bench as a seat.
Since the beginning of time, kiddos have pretended to be princesses for one reason: to tell everyone else what to do. The second reason kiddos love princesses? They have cool stuff. Princess Stormi's new wardrobe of princess dresses were tucked inside her new carriage. The little cutie now has a stack of dresses from Disney films; including Cinderella, Tiana, Elsa, Belle, and Ariel.
Little Stormi seemed to love her presents; Kylie posted a picture of her daughter posing inside the carriage. The adorable little nugget beamed for the camera as she wore a royally-inspired dress.
As if the carriage and dress weren't enough, Scott had Stormi's favorite Troll character Poppy stop by to say 'Merry Christmas'.
Kylie was wowed by Travis's gesture too, as she captioned one of her Instagram Stories of the gift exchange "omg @travisscott ❤️✨💕"
Jenner's Instagram Stories mentioned the gift was from Travis, so we have to wonder what Kylie bought for her daughter – maybe a pair of boots to match the $12,000 Hermès backpack she bought for the tot's first day of pre-school.
This isn't the first time Stormi has received a lavish gift; in February of 2020, Scott and Jenner threw their daughter a luxurious birthday party for her second birthday. And one of last year's Christmas presents? A ginormous playhouse (with a theatrical balcony) from her grandmother Kris Jenner.
Stormi seems to have had a great holiday season: making cupcakes, getting a visit from the Grinch, twinning (twice!), and wearing the winter coat of your dreams.
https://www.instagram.com/p/CIbQUnFHSTH/
https://www.instagram.com/p/CJO00gYnDMD/
https://www.instagram.com/p/CIi9gzWnsQX/
https://www.instagram.com/p/CHx9LnAn7Na/
This toddler's life is better than about 99 percent of adults, but she's so adorable we can't even be mad. Just a little jealous.
This article was originally published on