'Stranger Things' Star Takes Action Against Sexual Assault Allegations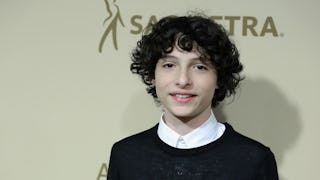 Photo via Getty Images/Rich Fury
From "Stranger Things" to doing the right thing
We live in strange times when a child actor takes a stronger stance against sexual assault that many adult actors have been as of late.
But Finn Wolfhard is no stranger to strange times, and at just 14 years old, already knows exactly how to respond.
Finn Wolfhard is one of Hollywood's hottest young actors, starring in the Netflix hit "Stranger Things," which returns this week for its second season, and in September's huge horror hit "IT." Now the teen actor is making headlines among Hollywood's real-life horror story, the epidemic of sexual assault allegations that are swirling around the entertainment industry in the wake of mogul Harvey Weinstein's fall from grace.
Wolfhard took a stand that not many adults seem to be taking, leaving the APA talent agency after his agent, Tyler Grasham, was accused of sexual assault by filmmaker Blaise Godpe Lipman, according to the LA Times.
APA has since fired Grasham, after at least two other men came forward with accusations of sexual misconduct by the agent, but Wolfhard struck the first blow. The "Stranger Things" star made it clear that the agent's conduct was unacceptable and helping prompt others, including APA itself, to follow suit.
"Tyler Grasham's employment with APA has been terminated effective immediately," Manfred Westphal, APA's head of communications, said in a statement.
Grasham's accusations are the latest in a string of high-profile incidents swirling around tinsel town after more than 40 woman spoke out against Harvey Weinstein's decades-long reign of terror. A-list stars from Angelina Jolie to Gwyneth Paltrow came forward with horror stories about the head of Miramax, leaving Hollywood reeling as more and more celebrities stepped out of the shadows to offer their tales of inappropriate behavior taking place behind the scenes.
Wolfhard is one of the few actors – along with Channing Tatum and Kevin Smith – to take real action to disassociate himself from anyone connected to the abhorrent, in some cases potentially criminal, behavior.
The young actor is putting is principles ahead of his career, and setting a fine example for other actors in the industry, regardless of their age.
This article was originally published on