This 'Stranger Things' LEGO Set Didn't Miss A Thing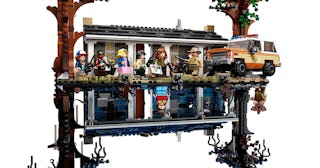 LEGO
Hold onto your Eggo waffles, because this 'Stranger Things' LEGO set is AMAZING
If you've been sitting on your hands in anticipation of season three of Stranger Things, you're gonna want to pull them right on out for this. LEGO has come out with its own set designed after the hit Netflix show, complete with a reversible Upside Down. YES. PLEASE.
You and your kids can reenact the adventures of everyone's favorite Hawkins, Indiana crew in this extremely elaborate and aptly-detailed LEGO set.
It's comprised of 11 bags filled with 2,200 pieces that re-construct the famous Byers residence in all its 1980s glory, and there's a very awesome catch: it also features the Upside Down version of their house as well. Complete with scary vines and alphabet Christmas lights and all.
The set wouldn't be complete without the Stranger Things characters to join in on the LEGO fun: Eleven, Mike Wheeler, Lucas Sinclair, Dustin Henderson, Will Byers, Joyce Byers, and Chief Jim Hopper all come with the amazing set. It's everything that made the first season of the show so iconic — in LEGO form. Now, what's cooler than that?
Winona Ryder can just quit the show and let this little LEGO version of her character take over, amiright? Whew, that is too perfect. All of it is, TBH.
Oh hi there, Chief Hopper and Eleven.
The wow-factor here is definitely in the details. The couch, coffee table, telephone, axe, "Have You Seen Me?" flyer for Will, and, naturally, the bear trap designed to catch the infamous Demogorgon are also included in this miniature re-creation.
Just LOOK at little Will Byers' terrified face and absolutely spot-on bowl cut. Someone give the designer of these LEGOs a raise.
The entire set is super detailed as well, and in addition to including a light-up alphabet, it will also feature Dustin's walkie-talkie and Eleven's favorite snack of choice, Eggo waffles. It's ridiculously fun seeing all these items making appearances in the LEGO version of the show.
Oh, and of course, they have the Demogorgon.
LEGO VIP members can purchase the set now — the rest of us will have to wait two weeks to buy it on June 1.
And in case you need something to hold you over until the season three premiere this summer, here's the action-packed trailer that shows the Hawkins crew enjoying their summer off from school (but not without a little sci-fi scariness, because of course).
The new season premieres July 4th on Netflix. In the meantime, we'll be building LEGOs to pass the time.
This article was originally published on