Stray Cat Spends Its Very Last F*ck Crashing A Fashion Show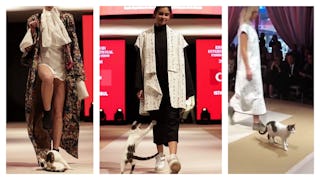 Image via Instagram/vakkoesmodistanbul
Who said fur was out this season? A stray cat crashed a fashion show runway and did whatever it wanted
You might think that the 2018 Esmod International Fashion Show, which was held in Istanbul, Turkey this weekend, doesn't hold much interest to you, a human being who doesn't have a lot of time for cutting edge international fashion. But what if we told you a kitty was there?
And what if we told you that the kitty obviously didn't give a single shit about anything except cat stuff?
Everything was going normally at the show: straight-faced models slinking down the runway, their high-fashion garments hanging off their bodies just so. But then a little grey-and-white stray cat hopped on stage and all of the beautiful women and clothes in the world couldn't compare to the show it put on.
Video footage from the show shows the stray cat ignoring absolutely everything about its surroundings: the parade of models, the pounding European club music, the audience, and flashing cameras.
No, all this cat wants to do is scratch its neck, lick its butthole, and attack every dangling coat sash and pant leg possible. As a cat should.
https://www.instagram.com/p/BpZGOwDACBR/?taken-by=vakkoesmodistanbul
Our favorite part? Definitely when it starts to masterfully strut down the middle of the runway as if to say, "It's called a catwalk, people!"
Or maybe the best moment is near the end, where the stray cat appears and a single, solitary model ditches her 1000-yard runway model stare for a second and smiles at the fashionable feline, even as it tries to probably murder her.
If you didn't know, Istanbul is famous for their stray cats, and how wonderfully they treat them. There was even a great documentary about the subject released last year, called Kedi (that's cat in Turkish).
A review of the movie explains: "Istanbulites often place bowls of food and water on the sidewalk in a communal effort that lets cats roam free. The money in the tip box at one restaurant goes toward the veterinary bill for sick or injured animals; at a fisherman's stand, cats get to sample the tiny anchovies plucked from the Bosporus. People often feel duty-bound to care for the animals that hang around their home or workplace, despite the cool nonchalance of the cats themselves."
We guess it's no wonder that the runway cat was treated with such warmth and love at the fashion show: most everyone loves Istanbul's strays, and the strays are perfectly comfortable living their best lives, on and off the runway.