8 String Art Ideas That'll Have You Tied Up In Fun For Hours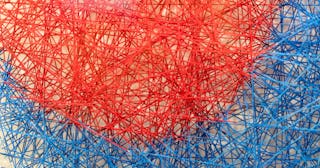 ak_phuong/Getty Images
Moms are a busy bunch. We're often tasked with all. The. Things — our to-do lists are basically never-ending. Because of this, self-care can seem more like an ever-elusive dream to aspire to than a reality well within our grasp. Sometimes hobbies get tossed aside for more pressing things, like, ya know, kids, work, and sleep. And yes, we know those things matter. No one is disputing that! However, it's also important to take time to do the things that bring us joy. We've said it before, and we'll say it again: You can't pour from an empty cup. So, take some time to fill 'er on up, Mama. If you need some hobby inspiration, we have string art ideas that make for a perfect R&R-centered pastime.
RELATED: Learn The Definition Of Process Art, Plus Ways To Encourage It At Home
Let's face it — 2020 brought out the inner artist in many of us. If it did for you, congrats on finding productive things to do in the dumpster fire of a year we just had. If not, maybe it's time to consider unleashing your inner Picasso. Or, in this case, your inner Gabriel Dawe. Craft store sales have been through the roof, and for good reason. Art is therapeutic; there's no denying it. And it's a great way to keep busy when we're stuck at home and need something to take our mind off stressful current events.
People are trying out all sorts of new crafty things. String art being one of them — the topic of today's conversation, in fact. One of the best things about this wildly satisfying creative outlet? It's something fun you can easily loop (sorry, couldn't resist!) your kiddos into doing with you. Keep reading to get your string-art imagination going.
What is String Art?
By definition, string art is the process of weaving colored string between hammered nails to make geometric patterns. Other materials can also be used as the medium in the absence of string. Examples of these alternatives might include wool, wire, or yarn. The origins of string art can be traced back to 1909 and an Englishwoman by the name of Mary Everest Boole. She used what she then called "curve stitching" to help teach children mathematics. Later, the practice became popularized as an art form in America thanks to artists like John Eichinger.
Since this art form still effectively falls into the "less-than-typical" hobby category, though, you may not have considered or even heard of it yet. If that rings true, the string art ideas shared below might just motivate you to give it a try. Who knows? Maybe string art will be your jam. Maybe it won't. Either way, it sure is pretty.
String Art Ideas
1. Ties That Bind
This string art project would be easy enough for a beginner to re-create. Rustic, handmade, charming, meaningful symbolism — what's not to love?
2. Infinite Love
What a fun project for Valentine's Day! Or a friend's wedding. Or an anniversary gift for your significant other. The infinity sign is a wonderful representation of enduring love… no matter what day the calendar says.
3. Home Sweet Home
This charming "HOME" sign could be re-done in any color to match your decor and offers a bit of that farmhouse style that's become so popular in recent years (here's lookin' at you, Chip and Jo!).
4. Perfectly "Paw"-some
Dog lovers, this one's for you! We know pets often become a beloved part of your family. A piece like this is perfect for homes with furry four-legged friends.
5. The Boy Who Lived
Calling all wizards: Here's a project right up your alley (Diagon Alley, that is). This kitschy design is fun for all Harry Potter fans, young and old alike.
6. Balloon Art
We love this beyond-adorable hot air balloon. This project looks like it might be better suited for the more advanced string artists out there, but it sure is #inspo, no? Once you've got some practice under your belt, give it a try!
7. Llama Llama, Red… Glasses?
This on-trend llama piece is perfect for those with a funky, eclectic style. It may not be for you, but if it is, we dig your vibe.
8. Night and Day
https://www.instagram.com/p/CKU_-T2HqY5/
This string art moon-and-sun piece is absolutely stunning. The neutral color palette and simplistic design make this modern DIY a perfect complement to any decor.
String Art for Kids
The string design ideas above are beautiful, but they can be a little complicated for little ones. Here are a few designs that are perfect for kids and won't take hours. String art is a great way for children to relieve stress. Researchers found that it can help treat emotional pain and depression.
Add some love to your kid's daily crafts and have them create a heart!
Looking to wedge some learning into your child's art project? Have them trace the numbers with the string!
What is needed for string art?
String art is an intricate and beautiful process. With the right supplies, you can create tasteful and sturdy pieces that will make your guests go wow.
A piece of wood (stained or unfinished)
Linoleum nails, or a variety of colored nails
Embroidery floss
Tape
The image your design is based on
String Jokes
Who knew string could be so multifaceted? Not only can you use it to fix a button, but it can create masterpieces as well. It turns out you can even use it to tell a solid joke. To add even more color to this vibrant page, we've scoured the internet for string-related funnies that prove that a piece of string can go a long way.
My dog ate a string of Christmas lights.
The vet was able to remove them. He said the dog was delighted.
Why wouldn't the string go through the eye of the needle?
It was a-frayed.
I asked my sister why she had all those strings tied to her fingers.
She didn't remember.
This article was originally published on