Teen Saves 9-Year-Old From Heartbreak When Military Dad Can't Attend Performance
by Jerriann Sullivan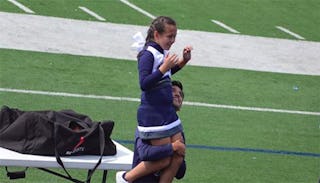 Student rescues cheerleader during the parent portion of the ceremony
A high school student helped a little girl through an uncomfortable situation when her dad couldn't make it to a school performance because he's away training for his next military mission. The situation reminds us how oblivious schools can be to students' lives outside of the classroom.
Nine-year-old Addie Rodriguez cheered on her St. John Bosco Elementary School team at a recent football game at Central Catholic High School. At one point the fathers of the girls joined them and lifted their kids onto their shoulders. Addie started crying because her dad couldn't be there – he's training at Travis Air Force Base in California. "Mom missed the memo it was parent day and the reason her mom missed the memo was her dad left Wednesday," Addie's mom, Alexis Perry-Rodriguez, told News 4 San Antonio.
The little girl's father, Abel Rodriguez, is a senior airman who has served in Iraq and Afghanistan. While Addie is used to her dad's demanding military schedule, the moment was still gut-wrenching, and the little girl did what we'd all do in the situation. "It was really heartbreaking to see your daughter standing out there being the only one without their father, knowing why he's away," her mom shared. "He's serving our country."
Thankfully a senior high school student from the opposing school jumped into action and rescued Addie. "I ran down from the bleachers … and I just hopped the fence," said Matthew Garcia, who attends Central Catholic High School. "I went over, and I kneeled down, I talked to her, and I said, 'Are you OK?'" Then the teen lifted the fourth grader onto his shoulders so she wouldn't miss that part of the ceremony.
The teen's sweet gesture was caught on camera and shared online, where it's going viral. "And then I realized what he was doing," Addie's mom explained. "My heart just melted. It was just the most beautiful thing." The young girl was clearly overwhelmed at being left out and greatly appreciated Garcia's efforts to help. "I thought that's so nice, especially since my dad's serving for us," she said. "I just felt like somebody saved my life." The teen's thoughtfulness can't be debated, but the experience does remind us of how tone deaf schools still are about the struggles families face.
Incorporating dads into events seems like a good idea, but often makes kids feel left out. What if your dad died when you were young or you live in a single parent home? What if, like Addie, your dad is deployed? What if your dad travels a ton for business or works on the weekend and can't make the event? These feel-good activities end up putting kids in a crappy position.
Thankfully, another student made up for the sensitivity the school was missing.
This article was originally published on