Someone Calls 911 On Stuffed Animal They Thought Was A Rogue Cheetah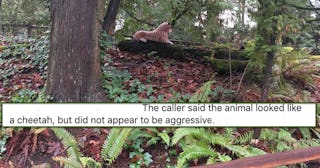 Multnomah County Sheriff's Office/Facebook
Someone in a neighborhood near Portland, Oregon called 911 when they thought they encountered a rogue cheetah near their home
File this under, not a prank…just a stuffed animal that looked super realistic. Someone in Multnomah County near Portland, Oregon called their local sheriff when they spotted what appeared to be a rogue cheetah stalking the wooded area near their residential neighborhood. Naturally, the sheriff was concerned and looked into it, and well, here's what happened.
"This morning, we received a call from a SW Portlander who reported seeing a big cat with 'spots' in an elevated position off the road in the Green Hills neighborhood," the Multnomah County Sheriff's Office shared on Facebook. "The caller said the animal looked like a cheetah, but did not appear to be aggressive. Big cats are not uncommon in this area, cougars have been spotted in the West Hills periodically over the years, but a possible cheetah, this was new for us."
A deputy was sent to investigate and the Oregon Zoo was called as well, though they reported no missing animals. But when Deputy Sullivan arrived, he saw "the cat."
"I used my ninja-like skills to sneak up on the beast," he said. "Of course, it sat there dumbfounded that I was able to get so close for a couple of photos."
And that's when he realized, oh — it's a stuffed animal.
To be fair, it really does look menacing from far away.
But then you get up close and oh yeah, it's a toy.
"Give the neighbor credit, the description was spot on, and a cheetah in the SW Hills would have caused great panic," the sheriff's office added. "Humor aside, we appreciate this neighbor for reporting what they believed was a serious concern and threat to life-safety in their neighborhood. We encourage all of you to report crimes or anything that you may find is out of the ordinary or suspicious, we are here to serve you and will always risk our lives for the community's safety. We're relieved to report this wasn't more serious."
Almost two thousand people shared this post, thanking the sheriff for the laugh, with one person writing, "it's 2020 and this was needed." They never figured out how the cheetah got there, but it probably just belonged to some kids. In these frightening times, finding out that something scary is actually just a plush toy is the relief we all need right now.
This article was originally published on