Fun Summer Activities For Preschoolers To Banish Boredom And Beat The Heat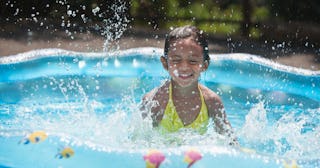 Jose Luis Pelaez Inc/Getty
Summer is coming up soon! We have beach vacations on our minds — or at the very least, some inflatable kiddie pools — and And what better way to spend it than by hanging out with the kids? Yeah, we know. You've got responsibilities — work, cleaning, cooking — and being a mom keeps you busy. But, be sure to find time to chillax with the kids too. You guys will all benefit from some downtime. Today, we're sharing summer activities for preschoolers to give you some ideas for kicking off the season.
We're all spending more time at home this year, so we need activities to keep our kids entertained. Thankfully, summer means we can get outside and enjoy the beautiful weather. Below, we've compiled a list of summer activities for preschoolers, many of which involve getting outside. And to beat that scorching hot summer some activities involve water. Either way, these activities will beat the heat and keep kiddos busy. So what are you waiting for? Enjoy the sunshine, fresh air, and time spent with your kids.
Summer Activities For Preschoolers
1. Pool Noodle Water Wall
This activity can be put together in under an hour for around $15 and will last all summer long. You only need three inexpensive supplies — a pegboard, pool noodles (check your local dollar store for the best deal!), and zip ties. This pool noodle water wall takes preschool water play to the next level. Your kids will have hours and hours of fun watching water work its way through the pool noodles on the pegboard.
2. Car Wash Sensory Bin
Taking a water table (or a folding table and a couple of plastic tubs filled with water), toy cars, household supplies, and cardboard, you can put together this simple car wash sensory bin for little ones. This will keep kids busy and engaged in the backyard or patio while you sit and enjoy an ice-cold glass of lemonade and relax in the summer sun.
3. STEM Frozen Dinosaur Eggs
Here's an exciting science activity that only requires a few small toys and a container to freeze them in. This fun activity will keep kids cool and having fun. It can be done indoors or outdoors. Just be sure to put a towel down underneath if doing it inside.
4. Double Dutch Jump Rope
From Parents, here are the basics of Double Dutch jump roping. This is an activity that was widely popular when we were young but seems to be long forgotten now that kids are spending so much more time in front of screens. If you'd like to get your kids up and moving, get them a jump rope and show them this video. This one may be slightly above your preschooler's skill level, but you can definitely introduce them to the basics of jump roping and save this video for when they're a bit older.
5. DIY Bubble Solution
If you have kids that like to blow bubbles, you know how quickly those little bottles disappear. Here's a recipe for a bubble solution that can be made with simple household ingredients and lasts much longer. This makes a fun outdoor activity on a hot summer day.
6. Soap Boat Races
This activity is good for kids of all ages, even the littlest ones, and can be done for under $10. Soap boat races are a great way to spend a summer afternoon in the sun (and keep cool while doing it!).
No Slip N' Slide needed here! With just a few simple supplies, you can DIY your own with just a tarp, a water hose, and soap. It will last so much longer than the name-brand version and your kids will have so much fun. Here's an easy tutorial from Happy Hooligans. This is water play at its finest.
8. DIY PVC Sprinkler
Here's a simple tutorial brought to you by Home Depot for a DIY PVC sprinkler system to keep kids cool in the summer. This contraption requires very few supplies and is easy to put together. Kids will want to play outside in the water all summer long.
9. Shaving Cream Snow
Bring some snow into the summer with a can of shaving cream and a bucket of ice. You're going to want to do this outside, so load up an aluminum tray with ice and layer shaving cream on top of it. This will help the cream's puffiness last longer and keep cold. Sprinkle some glitter or gems into it for some extra flare. If your kids are Frozen fans, break out the Elsa and Anna dolls and place them in the summer snow.
10. Water Balloon Piñatas
Does anything sound more fun than this?! Kids love water balloons. And kids love piñatas. Of course they're going to go bonkers over water balloon piñatas — especially in the sticky summer heat. Bonus? They're cheaper and easier than regular piñatas. You just fill up six or so balloons with water, tie them on a line so they're hanging slightly above your child's head, and let your little slugger whack away. If they make contact, the balloon will burst and a refreshing gush of water will rain down.
11. Water Balloon Puppets
Grab a bunch of deflated balloons, googly eyes, and permanent markers. On each balloon have your little one will draw a face and then help them fill it up with water. Cut the extra balloons into stars, hearts and other designs so the kids can add them to their water balloon's design. Then glue googly eyes on it to complete the face. These balloons aren't for throwing but are more like homemade buddies your kiddo can bring into the pool or take along on wet adventures.
This article was originally published on