Get A Sun-Kissed Glow (Minus The Sun Damage)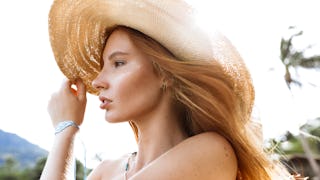 Diana Indiana/ Shutterstock
Summer is upon us! The sun is shining! The temperature is rising! Time to break out all the tiny clothes and soak up some rays for that summertime glow!
No, it is not.
I mean, yes, it is almost summer. And yes, the sun is shining, and it's getting hot, and we all like to add a little color to break away from spending the winter as a grumpy vampire. But by no means should you be baking in the sun to achieve a melanin bump. We are all well-versed in the risks and dangers associated with UV exposure. So slather on the SPF and apply a cosmetic kiss from the sun instead.
Bronzers are an easy way to add some color or dimension to your face. You can also use them to fake the kind of glow you usually associate with a day at the beach. So you can skip face makeup all together and just go for that natural sun-kissed look.
Hoola is a universally flattering bronzer. You can dust it across your cheeks, forehead, and chin for a matte boost in color that works for nearly everyone. It also comes with a handy, natural bristle brush that makes the application easy.
If matte bronzer isn't really your bag and you're looking for more glow in your glow, BECCA's Sunlit Bronzer comes in a variety of shimmering shades. Practically every skin tone has an option with this creamy compact. It's great for layering, too, so you can go for subtle color or opt for a bolder, spent-the-day-at-the-beach look.
For a barely-there bit of shimmer, Physicians Formula Bronze Booster gives just a hint. As a bronzer combined with BB cream, you get all the warmth you expect with a bronzer while it moisturizes and brightens your skin.
A widely popular bronzer that happens to be one of the most affordable on the market is NYC's Smooth Skin Bronzer. The sheer pigment is just enough to make you look sun-kissed but not orange. For anyone who isn't into sparkles or shimmer, this is a lovely matte as well.
NARS makes my personal favorite bronzer, and this blush/bronzer duo is double my favorite because, you guessed it, it includes my favorite blush. Orgasm is pretty much everyone's favorite blush, so I know, I am not special. But pairing it with the Laguna bronzer is it. This pair is the beachiest, glowiest, summeriest your skin can look without soaking it in oil and laying out with one of those reflector things. But this way you get all of the bronze and none of the irreversible damage. It's worth the money, trust.
So load up with some SPF, wear shades and a hat, and maybe sit in a covered area. But look like you soaked it all up, and then some. Fake it.
This post contains affiliate links, which means we receive a small portion of the sale if you make a purchase using these links.
This article was originally published on