Super Fun Summer Crafts To Keep The Kids Busy Until School Starts Again
by Team Scary Mommy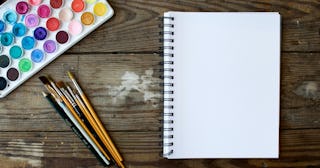 Tim Arterbury/Unsplash
Even if you don't consider yourself a "crafty" person (in the sense that you're good at arts and crafts), if you have kids, you'll soon find yourself covered in string, glue, paint, and yes, Enemy Number 1 of any household: glitter. (Besides, everyone knows that the best kind of glitter is a movie starring Mariah Carey.)
RELATED: Learn The Definition Of Process Art, Plus Ways To Encourage It At Home
Anyway, children are usually pretty into making things (including a mess), so arts and crafts shouldn't be a tough sell. While various types of art projects are great year-round activities, there's something extra special about summer crafts. Maybe it's the idea of doing crafts at a summer camp, or continuing art class from school during the rest of the year, but as long as the kids are home, they're going to need stuff to do. Crafts are also a great way to get rid of stuff around the house, like discarded fabric, jars, and yarn, and many a cardboard tube. Here are some fun summer crafts that will keep the kids busy until school starts.
God's Eye
Whether or not you went to summer camp, you've probably made a craft known as a "God's Eye." If you'd like, we can even give it a more secular name, like a "pretty stick and yarn square." Here's how to make one.
School of Fish
This is one of those junk-drawer crafts, where as long as you have some cardboard you can cut into fish shapes, you can decorate it with whatever's sitting around: yarn, paint, pipe cleaners, googly eyes, etc. If your kids want a more permanent exhibition, you can have them attach their school of fish to a poster board (or another piece of cardboard).
Wacky Milkshakes
Did you know you can make a DIY puffy paint with some shaving cream, glue, and food coloring? Well, you can! And you can use it to make a super cute milkshake art piece.
Jellyfish!
Normally, we'd tell you to avoid jellyfish at all costs (anyone who has ever been stung by one knows why). But these jellyfish are made of cardboard and yarn and won't sting you anywhere (including the wallet, because they're made with materials you probably already have!).
Tie Dyeing
If you take five minutes and look around your house, you'll probably be able to find at least a few articles of clothing that could use some tie dyeing. Endlessly customizable and a great outdoor craft for a nice day, tie dyeing is another classic summer craft.
Crafty Raft
https://www.instagram.com/p/CCbXzYyiUlN/?utm_source=ig_web_copy_link
Gather a few supplies and make your own personalized mini raft! You can float it in the tub, or a bucket, or nearby body of water, or just admire it from land.
Watermelon Play Dough
Play dough and watermelon go together like…well, we're not quite sure, but this is a pretty adorable take on play dough. Just make some in green, white, and pink and layer it up in a jar. You can even pop in a few small black objects (like beads) in the pink layer to make it look more like the fruit. Take this one step further and make it watermelon-scented dough. These could also make cute gifts of party favors.
Wine Cork Stamps
If for some reason, you have a few wine corks sitting around your house, you can make some pretty fun stamps out of them. Just make sure an adult is around to do the cutting on this one.
Popsicle Crafts
This is one popsicle that won't melt, no matter how long you leave it out. Some construction paper, popsicle sticks, and arts and crafts supplies will go a long way as kids decorate their paper popsicles with fun designs and unique touches.
Clay Impressions
If you've got some salt and cornstarch, you can toss together a simple clay perfect for crafting (get the instructions here). And once you have your clay in hand, you can use it to make impressions of just about anything. Turn it into an educational activity by teaching your little ones about how fossils can make impressions that are preserved in time.
This article was originally published on