The Frugal Family's Summer Bucket List
by Rachel Garlinghouse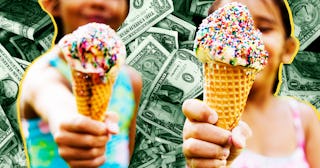 JGI/Jamie Grill/Ggetty, Joel Carillet/Getty and Scary Mommy
My kids have been on summer break for less than one week, and I have two words: CHA-CHING.
My kids tend to think of summer break like Christmastime, but for three solid months. The money just hemorrhages, the schedule is jam-packed, and there's crap strewn over every solid surface of my house.
Unless we stumble upon an orchard of fruitful money trees, I knew we needed a plan. Quickly. Because I wasn't about to drain my kids' college funds in order for them to learn to use a pottery wheel or become a mediocre soccer player.
As parents, we are bombarded with a plethora of options to occupy our kids for summer. However, if you're like me, just seeing the prices of summer camps and activities can give you heart palpitations that even the best summer sangria won't fix.
I'm parenting four children, ranging from a toddler to a tween. A few months ago, the summer activity catalogs filled my mailbox and inbox. My kids were all over them, circling all the appealing and endless options. Ninja warrior camp. Yoga and mindfulness camp. Healthy cooking camp. Theater camp. Spanish camp. Glitter princess unicorn camp.
To be honest, these sound spectacular. But the cost, times four, is ridiculous.
What's a family to do? Because relying on ourselves to occupy the kids all summer is a recipe for disaster. I don't care what your summer Pinterest board looks like. The magic wears off on or before day 11.
Our plan is to have a 1980s summer, like I did as a kid. And to take advantage of all the free and inexpensive options available to us.
So behold, the Frugal Family's Summer Bucket List:
1. The Library
Let's talk about the library. That place is so freaking magical. A library card gets your kids the ability to borrow books and movies. Some even allow you to rent American Girl dolls, passes to local children's places, tablets, fishing poles, magazines, and board games.
Hear me, folks. Going to the library is like free shopping.
Plus, many libraries across the country offer summer reading programs with incentives. Fill out a reading log and earn prizes with opportunities to enter drawings for even more prizes. Sign us up!
2. Cheap/Free Movie Days
On rainy or miserably hot days, head to one of the movie theaters, such as AMC, that offer children's movies for deeply discounted prices. Some also offer sensory-friendly movie showing time slots for kids who are sensitive to bright or dim lights and loud sounds.
3. Bowling
Need something more active for your little ones? I feel you. Have you heard of the program Kids Bowl Free? Select bowling alleys across the United States allow kids to bowl for free (yes, free!) throughout the summer.
4. Kids-Eat-Free Nights At Local Restaurants
If you're like us, food is a major summer expense. My kids eat three meals and three big snacks a day. Do the math. Four kids multiplied by six meals a day times seven days a week? That's 168 meals a week, not including the two adults.
Despite an organized meal rotation and snack schedule, and very limited dining out or impulse food purchases, our family's grocery bill competes with our mortgage. So we're excited to take advantage of the kids-eat-free nights at local eateries.
It's a win-win. Kids eat free, and we get a break from cooking. Find a list of restaurants that feature these deals here.
5. Go Old School
Of course, you can always dust off some old school classics. There's nothing wrong with a sprinkler in the front yard and popsicles for a snack. Swap play dates with a friend so you each get a break. Rotate visiting local parks, and take a picnic lunch.
6. Use Up Those Forgotten School Certificates
Don't forget about all those certificates your kids earned at school over the past year. I recently cleaned out our very full junk drawer to find coupons for seven free ice cream cones, a certificate for used book from a local store, admission passes to the children's museum, and a free kid's meal coupon from a café.
7. Solo Dates With Your Kids
Because there are four kids in our family, my husband and I sometimes take the kids on individual dates. The child gets to choose the activity, which usually involves food. It's so nice not to haul the entire family out. Plus a dinner out for all of us can easily cost over $75 and that's without drinks, desserts, or appetizers.
8. Staycations
Before summer started, we were contemplating going on a family vacation. As we were eating dinner one night, we asked the kids what their favorite past vacation was. I thought they would say Disney World or the beach, but they shocked us.
My kids loved the weekend last year that we spent in St. Louis, located just thirty minutes from our home. We booked a hotel with a pool, dined at local restaurants, and visited the art museum. Apparently jumping on hotel beds and eating tacos not made by Mom was all the magic they needed.
Here's what I've learned from my past 10 summers as a mom: Less is more. As parents, we complicate things by assuming our kids need specialized or highly educational activities so their brains don't rot and we aren't failing.
But the truth is, learning happens all the time through everyday experiences. And memories can be made anywhere.
If a lovely family vacay that pulls out all the stops or a posh sleep-away camp in the mountains is your jam, cool. But kids can have just as much fun creating a blanket fort in the living room or catching fireflies in the front yard. For free.
That kids-eat-free burger can taste just as divine as the $25 gourmet burger (that never gets fully eaten anyway).
Before you fork over a few hundred, or a few thousand, for your children to have a brochure-worthy summer, pause. Make a list of the free or inexpensive activities that your kids are bound to love. Then give your fun and frugal summer a whirl.
And of course, take a bit of the money you saved and get yourself a grande frappe. You deserve it!
This article was originally published on