We Can't Afford Summer Camps Or Fancy Vacations, But We Still Have Fun
by Sarah Cottrell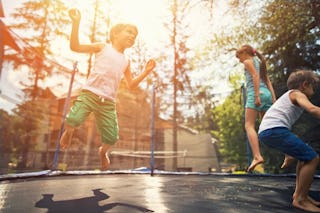 'Tis the season for my Facebook newsfeed to start lighting up with gorgeous selfies that were shot from sandy beaches and expensive poolside family vacations. I see tan lines and pink smiling faces. I read complaints about having to pack for a family of seven. I make my way through the endless parade of humble brags and I click "like" for every single one.
I do not begrudge them, but I do envy my friends who can afford luxury. It's hard to not be able to give my kids the same experiences that their schoolmates have. And my kids shouldn't have to suffer social envy because our bank account is too busy trying to plug a gaping hole caused by student loans and a mortgage.
Our family simply can't afford summer camps or fancy tropical vacations, but that doesn't stop me from trying like hell to create memorable summers for my children. Disney Cruise? No problem! I have a jumbo plastic kiddie pool and paper umbrellas for fruity concoctions. Transatlantic family trip? Well, I can bust out some German from my college days and teach my kids about the finer points of sauerkraut. Whatever the trending all-inclusive family vacation package seems to be, I've got a summer staycation solution to save the day and create a fun memory. Sure, there are no fireworks, but we do make the best s'mores this side of the Mississippi.
Since actions speak louder than words, I make every attempt to show my kids that fun does not have to involve price. For example, here are some free or seriously cheap things that we can be found doing during summer vacation:
1. Swimming in a lake (or other clean and natural body of water)
2. Squirt gun fights
3. Camping in the backyard
4. Watching the sun set and then counting the stars as they come out
5. Sidewalk chalk art shows
6. Making musical instruments out of recyclables, household junk, and art supplies
7. Throwing a dance party outside
8. Making mud pies (remember those?!) and throwing them at each other
9. Cooking outside over a fire
10. Exploring city and state parks
11. Partaking in free days. All federally funded museums have days and times that are free to the public.
12. Cashing in those birthday party freebies. Any time my kids attend a birthday party at a gymnastics or karate or whatever place, we save the "free lesson" coupons and cash them in on rainy days during vacation.
13. Enjoying our own drive-in movie theater. Borrow a projector and project a movie against a giant white sheet, or the side of a building, and invite all your friends over to watch a drive-in style movie.
14. Gardening
15. Tree climbing
16. Pitching a tent outside, filling it with pillows, and taking lazy afternoon naps
17. Skipping stones
18. Building newspaper kites and flying them
19. Building forts in the woods, or in the living room with pillows and sheets
20. Using string and cookie sheets to create giant bubble wands
21. Collecting bugs and looking them up online
22. Creating outdoor scavenger hunts with the neighborhood kids
23. Requesting free tours of cool places like the fire station
24. Building soapbox derby cars out of upcycled parts
25. Making an old-fashioned lemonade stand and giving the kids the opportunity to earn some pocket money
Summer becomes a time of imagination and innovation for my kids. They are asked to stretch their definition of fun to include being fully present in the moment and experiencing whatever undiscovered opportunities exist in our own community. They understand fully that our family is not the kind who can board a plane and fly off to some exotic locale for a week. They also understand that for us the freedom of summer can still be magical. We just have to get creative.
How flush my bank account is or is not should never have a lasting impact on the happiness of my kids. Although we certainly are in no position to be booking a vacation or summer sleepaway camp, we are most definitely rich with ideas for how to idle away an entire summer with smiles on our faces.
This article was originally published on